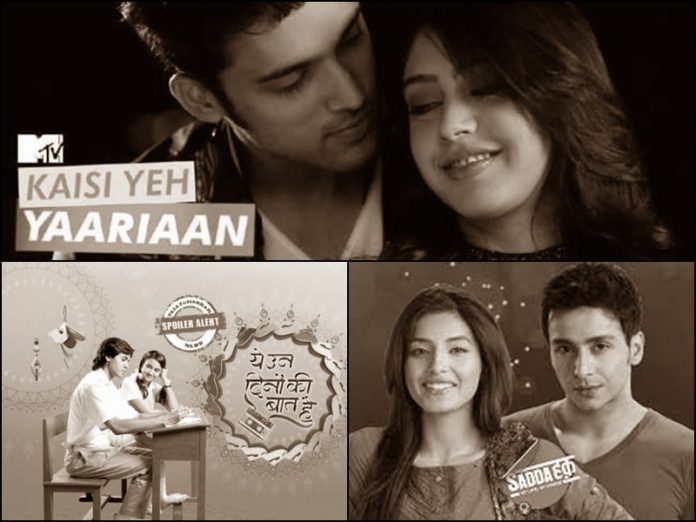 Romance is all about youth. Many films and shows are made on youth of college or higher school teenagers.  The energy, the limits, the relationships, the honesty, the friendship and above all the love is all about romance. Just ShowBiz here, lists down three shows which not only gained popularity but leaves an permanent memory in hearts of viewers.
Kaisi Yeh Yaariyan:
Who can forget Manan and Nandini in Kaisi Hai Yaariyan? Manan (Parth Samthaan) and Nandini (Niti Taylor) were destined to be together. No matter how much adverse condition is, their love for each other never failed. Parth and Niti had done quite an incredible job as Manan and Nandini. they were so perfect that fans still swore by their name. They constantly demand for season 2 with same star cast.
Sadda Haq:
Though the story begins with a girl fighting for her rights in men's world, but romantic angel between leads is still remembered. Sadda Haq is a story of Sanyukta (Harshita Gaur) and Randhir (Param Singh) playing college buddies. what never fade in all twists and turns, in all ups and downs was the love between them. Fans still think of this jodi to be repeated in whatever platform. In fact a web series named Black Coffee paired them again because of their popularity.
Yeh Un Dinon Ki Baat Hai:
This currently ongoing show is a must watch if anyone is a fan of 90's romance. The show covers all phases of romance from school to college and then marriage and its after effects. Sameer (Randeep Rai) and Naina (Ashi Singh) are head over heels in love with each other. Despite of all the hurdles which comes in their way, they never fails to deter from their soul partner. Randeep Rai and Ashi Singh does a remarkable job from school teens to married couples and looks convincing at every stage. 
Do let us know your thoughts on this write up in our comment section. Let's Get Bizzin!!