Abir Rajvansh of the show Yeh Rishtey Hain Pyaar Ke is stopping the screen with his full power packed performance.
His pain, anger, helplessness, anxiety; is something which is so breathtaking that one can't resist oneself from watching the epic performance of Shaheer Sheikh as Abir on repeat.
Shaheer is bringing some real tears in the eyes with his flawless effective act. The way he is flaunting his various shades as Abir; Shaheer is making millions of hearts to hold their breath. 
In the show Yeh Rishtey Hain Pyaar Ke; so far we have seen Kuhu ask Abir to find Kunal's truth and she also warns him and his family to stay away from her family. Abir learns the truth that Kunal spiked Nishant's drink and because of him Nishant's life was at risk. There, Kunal learns that Meenakshi already knew the fact that Nishant was a drug addict. He confronts Meenakshi and Meenakshi replied him that she did everything to protect Abir.
Afterwards, Abir confronts Kunal if he knew about Nishant's health condition or not. Kunal says no. Abir then announces in front of his family member that Kunal is no more his brother as his brother can't risks anyone's life. He tells to all that Nishant was an drug addict and since 10 years he was trying to come out from that zone but Kunal did a crime by spiking his drink. Later, Abir learns one more shocking truth that Mishti has come to him to tell him the truth but dropped a letter and went. And her letter was changed by Meenakshi. Abir thinks he misread Mishti.
Now everything is clear in front of Abir than he should definitely do something to mend his broken relationship with Mishti.  Thus, here we are highlighting five things which Abir can do to make things right in Yeh Rishtey Hain Pyaar ke!
1: Abir should confess his love to Mishti: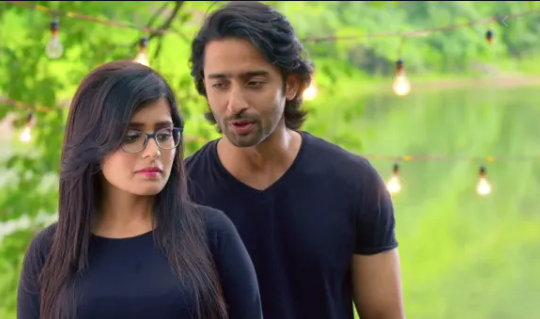 Love has the power to heal anything. Now as Abir has learned all the truth than without wasting any more time in thinking about any sort of consequences he should directly go and say I Love You to Mishti.
2: Abir should reveal Meenakshi and Kunal's vicious plan in front of Maheshwari's and apologize:
It will be quite difficult for Abir to take such a drastic step but asking for forgiveness and accepting the mistake always gives a second chance to the person. So, Abir too can get second chance.
3: Abir should reveal Nishant the whole truth:
Abir can make things right by revealing everything to Nishant and can apologize to him on behalf of Kunal. He can also explain about his and Mishti's unbreakable bond which might make Nishant to back off from his decision of marrying Mishti.
4: Abir can swap the groom:
Well, it will be quiet over dramatic but ITV is full of one. Thus if makers want they can go with the swapping idea. In Hindi soaps bride or groom swapping is common. Once the marriage is done things gets right if not instantly than later for sure.
5: Or Abir should leave everything on destiny:
Sometimes destiny plays an important role in fixing the things. Abir should wait for the miracle to happen, as we all know MISHBIR's love is inseparable and love always makes it way.
Let's see what more you can add. Shoot your best ideas in the comment section.
Stay tuned for more Yeh Rishtey Hain Pyaar ke spoilers and news.