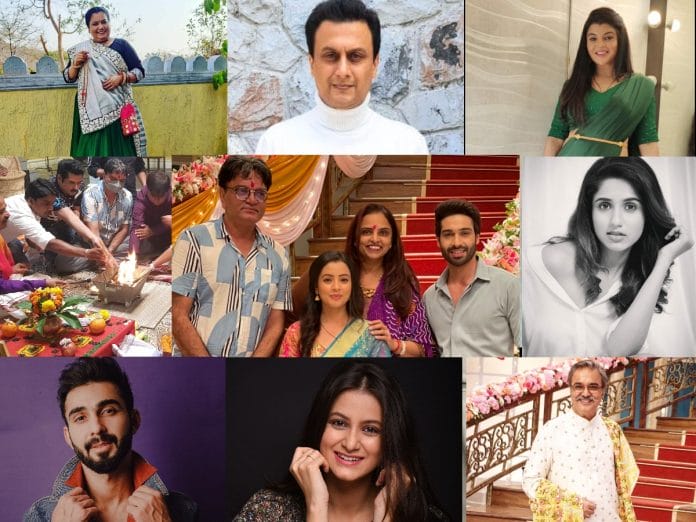 Sonali and Amir Jaffar's "Aapki Nazron Ne Samjha", which is produced under the couple's banner Full House Media, completed 100 episodes on Friday (June 25). The show that went on-air on March 2 revolves around the story of a blind photographer and how he and his wife together face various challenges in their life. The cast is proud of this new milestone and shared their excitement with us. Here's what they said:
Vijayendra Kumeria: Honestly, I did not realise how swiftly time passed and we completed 100 episodes. It has been a good experience so far, and I have enjoyed every bit of the character that I am playing. It is a new character for me, and it's quite challenging too. Every day that I go on the set there's some prep required for me individually, so I am enjoying the process of that. People have liked the show. I have got a lot of appreciation for it, and I am quite happy. I hope that people keep liking it. It's a great experience working with Full House Media. Sonali and Amir Jaffar, they are very approachable and very nice people to work with. Sonali Ji has a lot of experience of writing, so it comes in the show. It's very for the actors to talk to them. Overall it has been a very good experience working with them.
Richa Rathore: Gratitude is all that I have. I am overwhelmed, and I just want to thank each and everyone who is a part of this beautiful show. We all have been working so hard and today on the completion of 100 episodes I feel so fortunate to have got this amazing opportunity. This wouldn't have been possible without the love of the viewers and our fans who have showered us with so much love and give us the energy to move forward at all times. Working with Sonali ma'am and Amir Sir is like working with family. They both have been nothing but kind and supportive. They care for us as their own and you can talk to them about anything and also they are the coolest producers. We party together whenever we get a chance to. I am so glad that it is with them that my journey as a protagonist of a show began.
Pankit Thakker: It feels so great to be a part of such a well written show, the 100 episodes have gone by breezily, as a team, the cast and the crew are so good that there is a strong possibility we might go on to add one more zero to 100 and very soon we will celebrate 1000 episodes too. Under the leadership of Sonali and Amir, we know that we are in great hands, as an artist as well as an individual. The best thing about working under Sonali and Amir is that they are people with a big heart and they are people who are progressive and modify their strategies as per the need of the situation. They are one of those few producers who believe that content is the king and they stay true and loyal to their story and characters.
Saee Barve: So happy and grateful that we have completed a century. It's been a fun journey. The best thing about Sonali ma'am and Amir sir is that they are professional yet humble people, who are in search of excellence. On the very first meet, within a few minutes I felt like I am on the same page. I feel grateful to be a part of Full House Media production.
Revati Lele: It feels great. We as a team have reached to a 100 episode milestone and may this show do much bigger things in future. Working with Sonali ma'am and Amir sir is a bliss. I am grateful to be working with Full House Media. They treat us as their own family.
Bharat Pahuja: I feel euphoric. This is like a dream come true for me and the team. Maybe when you ask me how will I feel when we complete 1000 episodes, and I hope I will find better words by then. I'm truly grateful to our audience for getting us at 100 episodes and I know we will cross 1000+ episodes because of their love. Sonali and Amir are family. They are truly amazing, and how they prioritise everyone is just amazing. My heart is full of gratitude and love for them.
Purvi Vyas: It's a wonderful feeling. We created some wonderful memories and got a new family. Working with Full House Media has been a mind-blowing experience and they treat artist like family members, and I feel very comfortable.
Milloni Kapadia: It is a very overwhelming and beautiful feeling.100 episodes is not just about a number, it is about the journey we've lived during this time as these characters and with each other as a team. Everyone has put in their best, the entire team and the whole crew. I feel very grateful to be a part of this family and can't thank the audience enough for their love. May we continue to receive the love and support of our audience. When you work day and night on a project it is very important to have a comfort level with the team. Right from the beginning of the show, Sonali ma'am and Amir sir have been like our pillars and not just formally as our producers but genuinely as a family. This matters to me the most. Most importantly, the belief that the team of Full House Media had in me to play this part was such an encouragement. I am and will be forever grateful for their trust in me.
Abhishek Verma: It feels great. Being appreciated is always a good feeling. Our hard work is paying off and of course we have a long way to go, I hope we can live upto people's expectations for a long long time. I've known Sonali ma'am since 'Ye Hai Mohabbatein' days and I know the kind of hard work ma'am puts in her work. Working with full house media has been a wonderful experience, not only Sonali ma'am but even Amir sir is very supportive, he's always like I'm just one phone call away for anything.
Saurabh Agarwal: Wow, it feels so good. We had a puja on set and then a script briefing with our producers. It has been a fun journey, and frankly I was destined to be part of this show. It always feels like at home far from home.