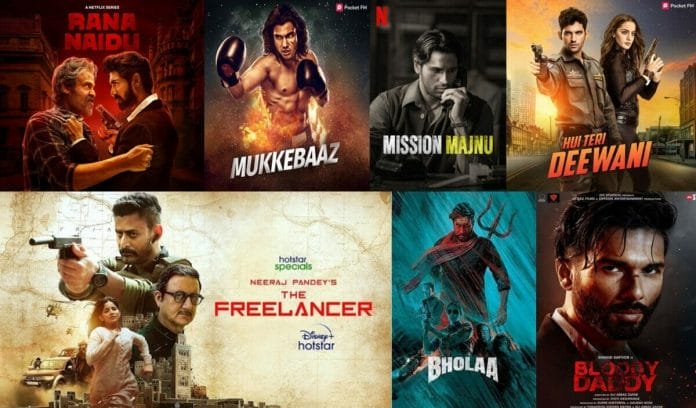 Shah Rukh Khan's 'Jawan' roared onto the big screen on Janmashtami, reaffirming his status as the ultimate entertainer. This action-packed thriller has set hearts racing and tongues wagging, earning praise from both critics and fans for its unadulterated dose of entertainment. The narrative centers on a man compelled by a deep personal vendetta to right the societal wrongs of the past, all while honoring a promise made years ago. His path intersects with a formidable outlaw devoid of fear, responsible for inflicting severe suffering upon many. With a stellar cast including Shah Rukh Khan, Nayanthara and Vijay Sethupathi in pivotal roles, and masterfully directed by Atlee, 'Jawan' is currently setting theaters ablaze.
But the excitement doesn't end there. If 'Jawan' left you craving more adrenaline-pumping action, you're in for a treat. We have curated a list of action-packed dramas on OTT platforms that promise to deliver the same heart-pounding excitement and gripping narratives.
The Freelancer
Discover high-octane thrills with 'The Freelancer,' now streaming on Disney+ Hotstar. Created and written by Neeraj Pandey, and directed by Bhav Dhulia, this action-packed series boasts a stellar cast including Mohit Raina, Anupam Kher, Kashmira Pardeshi, Navneet Malik, Manjari Fadnis, and more. Adapted from Shirish Thorat's 'A Ticket to Syria,' the show centers on Avinash Kamath (Mohit Raina), a former police officer turned freelancer. He embarks on a perilous rescue mission to retrieve Aliya Khan (Kashmira Pardeshi), a young girl held captive in war-torn Syria. As Avinash navigates the treacherous terrain, 'The Freelancer' unfolds as a must-watch action thriller, filled with suspense, danger, and a race against time to bring Aliya safely back to India.
Mukkebaaz
In the gripping audio series "Mukkebaaz" on Pocket FM, follow the riveting journey of Zoravar, a young man whose life shatters when his family is brutally murdered. Fueled by grief and armed with the mystical Neel Mani, he transforms into a formidable boxer with supernatural abilities. This action-packed drama delves into the gritty world of underground boxing while unraveling the secrets behind his family's tragedy. But "Mukkebaaz" isn't just about vengeance; it's a tale of personal growth, forgiveness, and discovering true strength. Zoravar's quest evolves into a profound exploration of resilience and the human spirit. In a world where redemption goes beyond revenge, this must-listen series keeps you on the edge of your seat, reminding us that true power lies within. Tune in to "Mukkebaaz" on Pocket FM to experience this electrifying audio drama.
Bholaa
Embark on a pulse-pounding journey with 'Bholaa,' streaming on Prime Video. An ex-convict, Bholaa, strives to reunite with his daughter after his prison release. However, a meticulously planned drug bust derails his plans, setting him on an extraordinary and perilous path. Faced with unusual challenges and danger at every turn, Bholaa's mission is far from simple. This action-packed thriller, a remake of the acclaimed 2019 Tamil film 'Kaithi,' features Ajay Devgn in the titular role, supported by an exceptional cast including Tabu, Deepak Dobriyal, Sanjay Mishra, Gajraj Rao, and Vineet Kumar. 'Bholaa' cannot be missed by action thriller enthusiasts, promising a gripping narrative that will keep you hooked from start to finish.
Mission Majnu
Step back in time to the 1970s with 'Mission Majnu,' streaming on Netflix. Amandeep Singh, an undercover Indian spy, must expose Pakistan's covert nuclear weapons test to clear his name and protect his family. While leading a seemingly ordinary life in Pakistan with his blind wife, Nasreen, and an unborn child, Amandeep's mission becomes critical amid the Indo-Pakistani War of 1971. Starring Sidharth Malhotra and supported by Rashmika Mandanna, Parmeet Sethi, Sharib Hashmi, Kumud Mishra, and Rajit Kapur, 'Mission Majnu' is a gripping action thriller that unfolds against the backdrop of espionage, war, and personal sacrifice. This is a must-see film that keeps you on the edge of your seat as Amandeep races against time to prevent an attack on the wrong target and secure his nation's safety.
Hui Teri Deewani
Step into a world shrouded in danger and intrigue with Pocket FM's action drama audio series "Hui Teri Deewani." Meet Mahikaa, a fugitive with a mysterious past, and Major Ayaan, a fearless army officer. Their fateful encounter sparks an undeniable connection that transcends their circumstances. As Mahikaa's perilous secrets entwine with Ayaan's unwavering duty, their journey explores themes of love, sacrifice, and the relentless pursuit of truth. Amid relentless adversaries and imminent danger, their bond embodies resilience, showcasing the enduring power of love in life's chaotic uncertainties. Join this enthralling journey of passion and suspense on "Hui Teri Deewani" only on Pocket FM. Discover a tale where love conquers all, even in the face of adversity.
Bloody Daddy
Experience non-stop action in 'Bloody Daddy,' a gripping thriller streaming on Jio Cinema. Directed by Ali Abbas Zafar, this film, co-written by Aditya Basu and Siddharth–Garima, stars Shahid Kapoor, Sanjay Kapoor, Diana Penty, Ronit Roy, Rajeev Khandelwal, Ankur Bhatia, and Vivan Bhatena. Adapted from the 2011 French hit 'Sleepless Night,' it delivers heart-pounding excitement. The story follows Sumair (Shahid Kapoor), an undercover cop who faces a perilous choice after busting a drug ring in Gurugram. Blackmailed by the ruthless drug lord Sikander (Ronit Roy) who kidnaps his son, Sumair takes on cops and criminals alike to protect his family. 'Bloody Daddy' is a must-watch action thriller that keeps you at the edge of your seat.
Rana Naidu
Dive into the gripping world of 'Rana Naidu,' an action-packed crime drama streaming exclusively on Disney+ Hotstar. Created and directed by Karan Anshuman and Suparn Verma, this thrilling series features a stellar cast including Venkatesh Daggubati, Rana Daggubati, Suchitra Pillai, Gaurav Chopra, and Surveen Chawla. Rana Naidu, the 'fixer of the stars,' specializes in cleaning up the messes left behind by his high-profile clients. While he excels at solving others' problems, his own life is in disarray. The series delves into the complexities of Rana's personal and professional struggles, with the unexpected return of his estranged father, Naga Naidu, after 15 years of wrongful imprisonment. As family ties are tested, and vengeance looms, 'Rana Naidu' is an unmissable action thriller that keeps you hooked with its intense storyline and powerful performances.