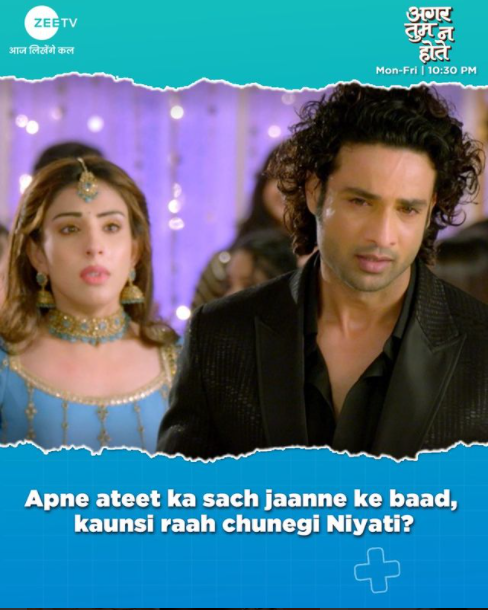 Aggar Tum Na Hote Spoilers, Upcoming Story, Latest Gossip , Future Story, Latest News and Upcoming Twist on Justshowbiz.net
Episode begins with Abhimanyu tells Niyati that they always ends up in trouble together and it looks like there is a 'kismat connection' between them which shocks her. He sees a glimpse from his past but he could not see any face. She asks him that what happened. He tells her that he felt like he already said this to someone. She thinks that he is remembering the past. He saves her and expects a thanks from her. She thanks him.
And she thinks that she has to do something to make him remember everything without putting pressure on his mind. She tells him that she troubled him a lot and now she want to finish the story of nurse and patient and they are strangers from now on. He sees a glimpse from his past again.
She tells him that if they are friends then they will have expectations with each other. So she decided to leave the city and wanted to say good bye to him. She asks him that if he forgave her, like this she repeats the lines which he said to her. He asks her that what is she doing. He tells her that they should leave from there and asks her to stop talking. He starts walking and says that she is nurse so she must be knowing that what's happening with him. He turns around and notices that she is missing. He screams her name and searches her.
On the other hand, Police brings unconscious Saira to Pandey house. Manorama asks Kamna to call Doctor and take Saira to guest room. Bua thinks that it was great opportunity for Karan to become a hero but he left for Delhi. Dinakar comes there and asks Gajendra to not worry. Gajendra tells him that he wants his son no matter what. Amma prays to God for Abhimanyu.
Abhimanyu asks Niyati to stop hiding. His head aches and he wonders that what's happening with him. She thinks that Abhimanyu may remember the past. She apologizes to him for hurting him. He finds her and scolds her. She realises that he didn't remember anything. He tells her that he asked for her help but she is hiding from him. He says that he could not see any face and he feels that he got glimpses from his past. He asks her to help him to remember everything. She thinks that she should give him some time. Goons comes there and ties Abhimanyu.
Shagun learns that Police rescued Saira and Abhimanyu also escaped. She says that she should do something before Saira regains her consciousness. Abhimanyu asks Goons to leave Niyati. He gets panic attack and beats goons up. Niyati asks him to stop it but he didn't listen her. She thinks that she don't have his medicine also and tries to stop him but no use. She realises that he is losing his control. He hurts himself and he pushes her when she tried to stop him.
Episode ends.