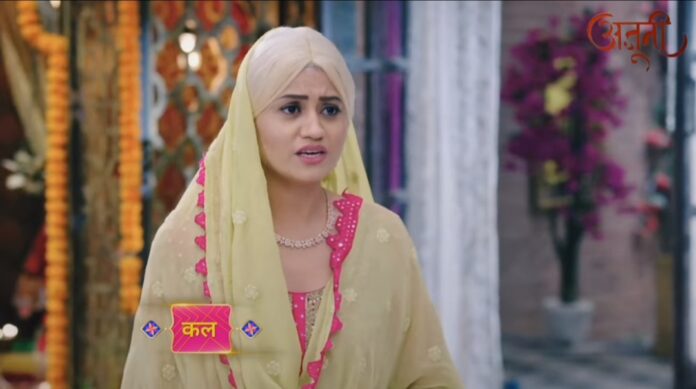 Ajooni Upcoming Story, Spoilers, Latest Gossip, Future Story, Latest News and Upcoming Twist, on Justhowbiz.net
Shoaib Ibrahim and Ayushi Khurana starrer Ajooni is Star Bharat show. This show is about how, despite coming from a middle-class family with strong family values, Ajooni is compelled to marry the guy she despises the most.
Now, Dolly decides to kill Ajooni so it will be intresting to watch that what going to happen in the future episodes.
In the current track, Ajooni assures Dolly that she will talk to Ravinder if Dolly don't like Vishal then. She applies face pack on Dolly's face. Shikha mixes something in the cream without anyone's knowledge. Later, Ravinder praises Vishal's family.
Shikha brings tea and says that Dolly is not coming out of her room. Dolly comes there wearing veil. Ravinder says that Dolly is shy girl. Dolly removes her veil on Vishal's mother demand. Everyone gets shocked seeing Dolly's hair colour.
Vishal's family gets angry and leaves from there. Ravinder scolds Dolly. Dolly blames Ajooni. Ravinder decides to punish Ajooni but she refuses to accept punishment. Rajveer defends Ajooni and he accuses Shikha indirectly. Ravinder scolds Bagga ladies and leaves from there.
In the market, Mangi ram collides with Sundari and learns that she is searching a job. He tells her that she will get job and takes her to Bagga house. Shikha provokes Dolly against Ajooni. Dolly refuses to join hands with Shikha again. She says that she can even kill Ajooni and leaves from there with hocky stick.
In the upcoming episode, Sundari will fall on Rajveer. Rajveer will plan to surprise Ajooni to convince her. But Shikha will try to ruin it.
Will Ajooni learn about Rajveer's surprise? Will Dolly harm Ajooni?
All these questions will be answered in the upcoming episodes.
To know what will happen next in your favorite show Ajooni, stay tuned to this space.