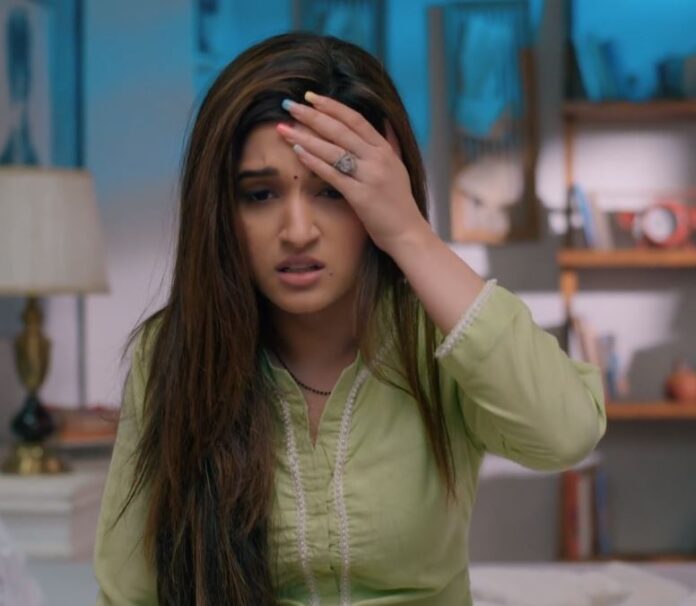 Anupama Upcoming Story, Spoilers, Latest Gossip , Future Story, Latest News and Upcoming Twist on Justshowbiz.net
Today's episode starts with Anupama saying to Leela that Rakhi has become her friend too. Leela says to Anupama that Rakhi is not her friend but snake. Rakhi comes from behind. Leela asks Rakhi and Kinjal about the reports. Kinjal says reports will come later. Leela says she wants to give good news to Vanraj as soon as possible. Anupama asks Kinjal not to worry.
Here, Kavya asks Panditji not to say like that as she loves Vanraj a lot and wants to marry him. Pandit says to Kavya that as per the astrology Vanraj and her marriage cannot happen. Kavya cries and asks Panditji to get one date for the marriage. She pleads him. Panditji asks Kavya if she wants wedding with Vanraj than she should not delay the marriage more as he can see Vanraj might has a change of heart. Kavya thinks about something.
There, Samar refuses to perform. Nandini comes with Vanraj's video call. Samar refuses to talk with him. Nandini force Samar to talk with Vanraj. Samar vents his frustration on Vanraj for hurting Anupama. Vanraj motivates Samar to dance. He says to Samar that he used to think he is a loser but Anupama always feel proud of him. Vanraj asks Samar to perform to prove Anupama right. Samar understands Vanraj.
Other side, Kavya prays and pleads to God to give her Vanraj. She says to God, she knows she has done wrong by loving a married man. Kavya adds loving someone is not wrong. She pleads and says to God that she loves Vanraj a lot and wants to marry him. Ahead, Samar decides to fight for Anupama's sake. Nandini comes and hugs Samar.
Further, Rakhi and Leela takes care of Kinjal. Kinjal waits for her pregnancy report. Leela takes out evil eyes from Kinjal. She asks Rakhi to come with her. Kinjal calls Paritosh. Paritosh tells to Kinjal about his friend whose wife got pregnant. He adds and tells to Kinjal that he hates such people who doesn't plan family. Kinjal gets upset.
Afterwards, Samar talks with Anupama. Anupama wishes luck to Samar. Samar tells to Anupama that Vanraj motivated him. Anupama gets happy. Meanwhile, Kavya decides to win back Vanraj before it gets late.
Later, Nandini wishes good luck to Samar. Samar gets ready for the competition. There, Kinjal gets restless thinking about her pregnancy. She recalls Leela and Rakhi's word. Kavya accidentally informs Samar about her pregnancy and gets scared.
Elsewhere, Anupama thanks Nandini for supporting Samar. Nandini and Anupama shares an emotional talk. Anupama asks Nandini to always support Samar. She asks Nandini to send her Samar's dance video. Other side, Kavya enquires about Vanraj and Anupama's divorce but fails. Pakhi comes from behind and taunts Kavya about her efforts. Kavya gets furious on Pakhi. She decides to fetch divorce letter from Vanraj's room (Episode Ends)
Precap: Kavya reveals to Shah's about Anupama and Vanraj's divorce. Shah's stands shocked.