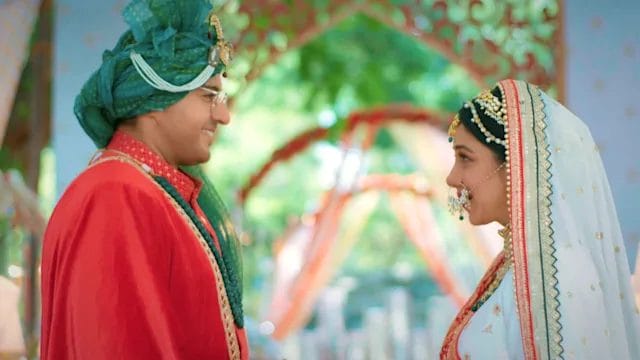 Anupamaa Spoilers, Upcoming Story, Latest Gossip , Future Story, Latest News and Upcoming Twist on Justshowbiz.net
In today's episode, Anuj says to Barkha that Anupama will be always with him. He says to Barkha to prepare for house warming party. Anuj says to Barkha that if she needs money, she can tell to Anupama. He excuses himself. Ankush says to Barkha can't she keep a calm. Barkha says they are not here to beg rather to fight for the right. She says to Anukush that Anuj and Anupama both are clever but she will not leave behind in taking their share.
Anupama enquires about Jignesh. Leela says he will come back soon as their mother is well. Vanraj says to Anupama that it is strange Anuj didn't told her about his family. He says but he is glad she got a family. Anupama says Shah's belongs to her too. Leela and Vanraj makes Anupama feel she is a guest. Anupama asks Leela not to think she is a stranger to them. Samar and Partiosh side Anupama. Vanraj and Leela say they didn't mean the same. Hasmuk says but their talk felt the same. Vanraj say Anupama is Kapadai's daughter-in law and they can't make her work. Anupama question if she is Kapadia's daughter-in law that mean Shah's don't belong to her.
Anuj interrupts. Samar says to Anuj that he is early. Anuj says he is on time. Samar and Pakhi decide to welcome Anuj. Anuj invite Shah's to their new house warming party. He adds Anupama has two families to look after. Anupama looks at Shah's before leaving. She further gets restless. Anupama shares with Anuj that today she felt lonely at Shah house. Anuj console Anupama. Anupama and Anuj spend quality time.
Barkha tells to Ankush that she made the guest list for house warming party. Ankush asks why she is inviting her guests to the party. Barkha says to Ankush that house belongs to them too thus she has a right to call her guest. She adds everyone should know that house belongs to them too. Barkha says to Ankush that with this house party they will make an entry in Kapadia business too.
Pakhi gets excited to attend Anupama's party. Kinjal gives her support to Pakhi. Leela says to Pakhi that she is still a kid and she should not get decked up so much. Pakhi gets irked. Anupama fear if everything will be fine at the party. Anuj asks Anupama not to worry.
Here, Vanraj says to Leela that they should maintain a distance from Anuj and Anupama. There, Anuj gift diamond necklace to Anupama. Anupama faint after hearing the price of the necklace. She worries how she will hold such an expensive necklace. Anuj asks Anupama to get ready tomorrow. Later, Anupama, Anuj pleads Vanraj to attend the party along with Shah's. Kavya tries to convince Vanraj to attend the party. Vanraj gets convinced. Anupama prays for everyone's happiness. [Episode Ends]
Precap: Barkha refuse to wait for Shah's. Guard misbehaves with Shah's. Anupama comes for Shah's rescue
Also See: