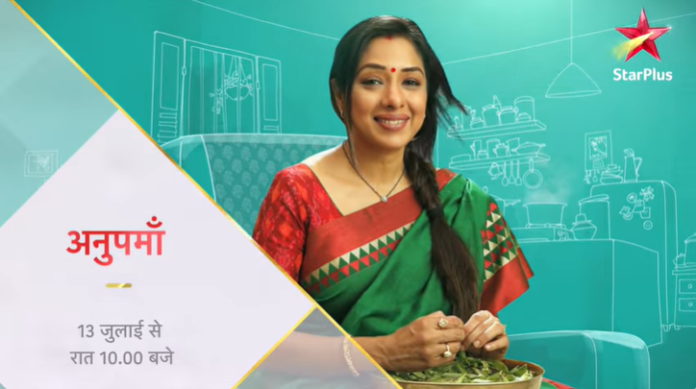 Anupama Upcoming Story, Spoilers, Latest Gossip , Future Story, Latest News and Upcoming Twist, on Justhowbiz.net
Episode begins with Anupamaa shocks seeing Vanraj's name on Kavya's hand. Rakhi mockingly says she has attended lot of mehandi ceremonies but never saw a ceremony like this. Anupamaa asks Kavya that what Vanraj's name doing on her hand. Kavya replied saying mehandi girl wrote the name by mistake. Nandini says it's big mistake not small one. Kavya says it's not her mistake and shouts at the mehandi girl. Rakhi asks then why she still has the name. Kavya says she was about to remove it before that Rakhi get to know about it.
Anupamaa says even though it's a mistake but it should not have happened because only she has the rights to write his name on her hand. Leela tells Kavya to remove his name instead of standing there like that. Samar wiped Kavya's hand with a tissue and apologize to her saying it was a weird situation. Kavya shocks seeing her spoiled mehandi.
Nandini says he need not to apologize because he did the right thing only. Anupamaa tells Kavya to not take Samar. Leela asks why would Kavya feel bad when Anupamaa is the bride here and supports Samar. She takes Anupamaa with her saying they has to finish her mehandi design.
Samar changes the atmosphere and tells them to enjoy it otherwise they had to give solo performance to entertain others. Rakhi apologize to her and says it's good that she saw her hand. Nandini tells Kavya that it's a sign that she is doing wrong and nature warning her. Kavya gets upset seeing her hand and stares Anupamaa.
Anupamaa goes to prepare a tea for Vanraj seeing him struggling with headache. Even though Jilmil said she will make it and Anupamaa's mehandi can spoil but Anupamaa denies to listen her saying she didn't put mehandi on her fingers. Kavya acts like she was about to fall and in that process she holds Anupamaa's hand and spoils her mehandi deliberately. Anupamaa cries seeing her hand and says it's not good thing. Dolly helps Kavya to stand. Kavya thinks when her mehandi colour going to be light then how can she let Anupamaa's mehandi colour to become dark and apologize to Anupamaa.
Leela yells at Kavya. Kavya defends her saying it was accident. Rakhi says Kavya's one move destroyed Anupamaa's happiness. Vanraj consoles Anupamaa saying she is acting like it's her first time. Later Vanraj tries to convince Anupamaa saying now it's already happened so why to feel sad thinking about it. He tells her to forget that. She shows him her hand which has his name and says no one can snatch her things from her.
Next day, Vanraj says even though it's their haldi day that's not mean she has to be shy this much. Anupamaa says Pakhi was teasing her saying they has to go to Goa after their marriage like every new couple. She says today nothing bad should happen like yesterday. On the other side , Kavya says even though haldi doesn't suits her still she has to apply after all she is the bride. Nandini gets irritated hearing her. Kavya tells her to get ready on time saying it's her mehandi. Nandini leaves from there after taunting Kavya. By Vanraj's mistake Anupamaa's nuptial chain breaks. Anupamaa panicks seeing that and Vanraj leaves from there she is overreacting for everything.
Jayesh tells Samar to take Vanraj's car to bring the things. Vanraj who was about to take the nuptial chain from car shocks knowing Samar took the car. Jayesh says in this marriage he is from bride's side. Anupamaa gets emotional hearing him. Vanraj messages Kavya that he will show nuptial chain later. Leela notices that Anupamaa wearing the new nuptial chain and shocks knowing the reason behind it.
Episode ends
Precap – Nandini tells Vanraj, Kavya's truth to Paritosh.