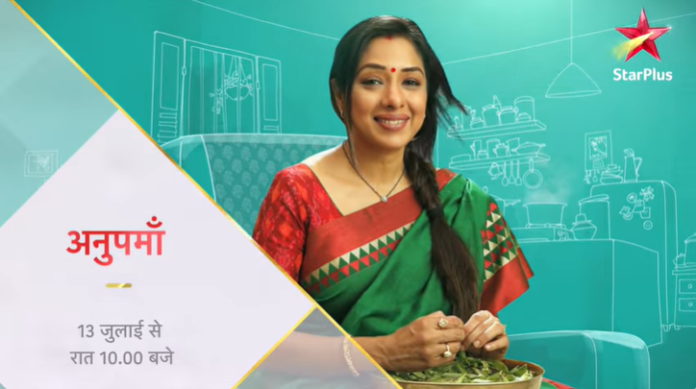 Anupama Upcoming Story, Spoilers, Latest Gossip , Future Story, Latest News and Upcoming Twist, on Justhowbiz.net
Episode begins with Kavya hides from Devika before she sees her outside Pakhi's room and gets relived. Shah family was enjoying while dancing and Kavya was keep staring Anupamaa, Vanraj who was dancing together and Paritosh was recording everything.
Nandini sees Paritosh and thinks she can't tell the truth to Samar but can tell to Paritosh, he is mature enough to handle this issue. She goes to him and says she wants to talk to him and takes him outside. She says she is not getting how to start. He assumes she is talking about Samar and says she should not take Samar antics seriously. She says she is talking about Vanraj, Kavya not Samar which confuses him and asks what she wants to talk about them. She pleads him to listen her fully then he can react.
She says it will be hard for him to believe her, in fact first she also didn't believe it when someone told her but now she saw and also Kavya confessed to her. She says she doesn't have to guts to tell this to Anupamaa even though she wanted to do it. He asks her to come to the point. She tells him about Vanraj and Kavya's affair. He denies to believe her saying she must be misunderstanding or it's any prank.
He says Vanraj, Kavya are just friends and how can she think about them like this. She says it's the truth. He scolds her and warns her to not talk nonsense like this and was about to leave from there but stops when he heard that on anniversary day Vanraj going to marry Kavya. She says they had to stop them, they are playing with Anupamaa's feelings and cheating her and he has to tell this truth to Anupamaa. Kinjal notices that Parish is missing and asks Samar about him. Nandini says if he can't believe her then she is ready to show the marriage registration receipt which she saw. Paritosh gets emotional seeing his parents and leaves for temple with her.
Samar sees them going together and wonders where they are going now. Then he shows the nuptial chain to Anupamaa saying Vanraj brought this for her to surprise her and apologize to Vanraj to spoiling his surprise. Vanraj shocks thinking how Samar got that nuptial chain. Anupamaa gets happy seeing that. Samar says he got that from Vanraj's car.
Dolly says Vanraj's choice is perfect because it's heart shape design and Pakhi says it's romantic too. Leela says in marriage now Vanraj will make Anupamaa wear this new nuptial chain. Anupamaa thanks Vanraj and shows the nuptial chain to her family. Kavya thinks Anupamaa already has the rights of Vanraj's wife, and her happiness was just this nuptial chain but Anupamaa snatched that also from her.
Paritosh shocks seeing the registration of Kavya and Vanraj's marriage. Kavya wonders why Nandini is not attending her call and was about to go outside but Anupamaa drags her to click picture with her. Nandini says they has to do something being an outsider she can't say but he can tell Anupamaa everything when he gets chance. He shatters knowing the truth and says Vanraj can't do this with Anupamaa. Nandini reaches house and tells Kavya that she went to temple. Kinjal asks Paritosh why he seems upset and where he went. Sanjay notices Paritosh's weird behavior and follows him.
Paritosh hugs Sanjay and starts to cry saying Vanraj cheating Anupamaa. He shocks knowing Sanjay already know about it. Samar comes there and asks what's happening but Sanjay denies to tell him anything. He hopes it's not related to Anupamaa's happiness and it won't affect her in any way. Paritosh yells at Kavya and says he didn't expected this from her. Seeing her arrogance he says it's illegal to do another marriage without divorce. Kavya asks who has the guts to tell this Police.
Episode ends.
Precap – Kavya tells Vanraj that Nandini told their truth to Paritosh.