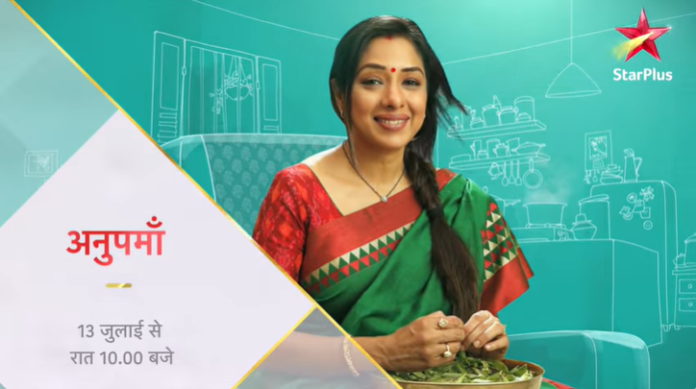 Anupama Upcoming Story, Spoilers, Latest Gossip , Future Story, Latest News and Upcoming Twist, on Justhowbiz.net
Episode begins with Pakhi says Kinjal too wanted to stay here but Rakhi didn't allowed her and she is missing all the fun. Anupamaa comes there and says she wants face pack. Hearing her Dolly, Devika and Pakhi shocks and teases her. Anupamaa tells Dolly to do her threading too. Dolly says Anupamaa first time asked something for herself in these 25 years and she will help her for sure. Devika says she is not the same Anupamaa she knows and asks Dolly to pinch her saying it seems like a dream. Anupamaa pinches Devika and everyone starts to laugh. Anupamaa says she wants to look good for Vanraj.
Devika says Vanraj going to faint seeing her beauty. Then they starts to dance. After sometime Anupamaa reaches her room and Vanraj gets afraid seeing her face and asks what she did with her face. She says he is changing so she is also changing for him. Next day, Anupamaa thanks God for filling her life with happiness so she is not gonna ask anything today. Vanraj gets a message from Kavya. Kavya says she is the first bride who got ready before time but this happened because she is so excited for her marriage and gets happy seeing Vanraj's reply. He hopes everything goes well today and Anupamaa can handle it until he comes back.
Anupamaa comes there, seeing her he says he is getting late for meeting. Nandini tries to stop Kavya but she warns her to not spoil her mood and she won't stop too until she wins and leaves from there saying she will send her marriage pictures. Sanjay who was waiting outside the house warns Vanraj. He says Paritosh believed his lie but he is not kid and knows him very well. He says just now he saw Kavya in bridal attire and locks the gate saying he can't go out today.Vanraj opens the gate and says no one can stop him today and Sanjay can do whatever he wants to do and was about to leave from there. Sanjay calls Jayesh and Leela outside.
Vanraj shocks hearing Sanjay. Sanjay complaints about Vanraj to Leela saying he is going to the office now. Leela tells Vanraj to go inside the house. Vanraj says he has an important meeting and he informed Anupamaa about it already. Leela says she is head of the family and Anupamaa going to get the same mother in law again. Jayesh says he will convince his office head and asks Vanraj to call his office. Vanraj says he will call and inform them and goes inside with his parents. Sanjay gets relived little bit.
Kavya reaches the temple. Priest asks her about the groom. She says he will reach soon and tells him to starts the preparations and gives the nuptial chain to him. Anupamaa shocks seeing Vanraj in the house and asks what happened. He lies to her saying her eyes told him to not go so he came back. Samar and Pakhi teases them. Dolly takes Anupamaa with her. Kavya waits for Vanraj. Anupamaa gets ready for her marriage and her family helps her.
Episode ends.
Precap – Kavya gets to know that Vanraj not coming to the temple. She says today Vanraj has to decide with whom he wants to live in front of everyone.