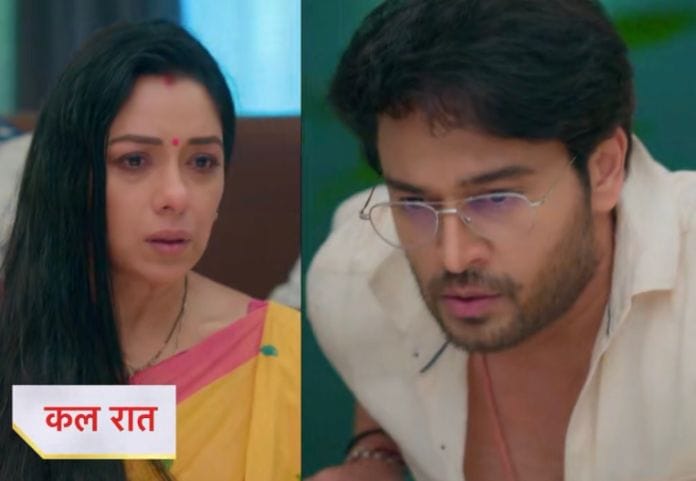 Anupamaa Spoilers, Upcoming Story, Latest Gossip , Future Story, Latest News and Upcoming Twist on Justshowbiz.net
In today's episode, Anuj calls out Anupama. Anupama hugs Anuj. Anuj asks Anupama what happened. Anupama says nothing happened. She says nothing will happen. Malti spots Anuj and Anupama.
Tapish helps Hasmuk with the cramp. Hasmuk says Tapish's hand has magic. Tapish asks Hasmuk to give him a reward. Hasmuk gives one rupee to Tapish. Dimple asks Tapish what he is doing. Tapish says he went to the academy, but it was shut, so he came to take the keys. Dimple says the academy will be shut down until Leela is fine. Hasmuk asks Dimple to go. Dimple says Leela's BP shoot up because of her; thus, she can't hurt Dimple again.
Anuj decided to meet the Shahs. Anupama asks Anuj to forward food and dry fruits to them. She shares with Anuj that Hasmuk and Leela hold each other's hands as if they fear getting separated. Anuj says Anupama is strong; otherwise, anyone would not have reacted this way. Anupama thanks Anuj for being there. Barkha says to Malti that Anupama runs the Shah house. Malti Devi gets irritated.
Kavya asks Dimple if she doesn't want to go to the academy, and then she can supervise. Dimple gives the academy keys to the Tapish. Anupama and Ankush discuss the business. Barkha says to Malti that Anupama is ruling Ankush. Anuj returns home.
Ankush asks Anuj if he didn't go to the office. Anuj says he went for more important work. Anupama asks Anuj if he went to the Shah house or not. Anuj says he is aware Anupama is worried for the Shahs, so he got a surprise for her. Hasmuk and Leela enter the house. Anuj tells Anupama that Leela and Hasmuk will stay with them. Anupama gets happy. Malti and Barkha stand stunned. Hasmuk tells Anuj that he insisted. Romil gets happy to see Leela and Hasmuk.
Malti asks Leela and Hasmuk to take a rest. She decide to serve soup. Barkha says Dimple and Kavya will come soon. Malti hatches a plan. Anuj comforts Hasmuk and Leela. Hasmuk praises Anuj. Dimple and Kavya spend time together. Kavya asks Dimple to go to the Kapadia house if she feels lonely. Dimple decides to stay back. Kavya asks Dimple if she likes Tapish. Dimple refuses to talk about Tapish.
Leela says to Hasmuk that Malti didn't like their presence. Hasmuk decides to go back after Leela gets well. Goons trouble Dimple. Dimple gets scared. -Episode Ends
Precap: Pakhi misbehaves with Leela and Hasmuk. Anuj alerts Pakhi. Malti smirks.
Also See: