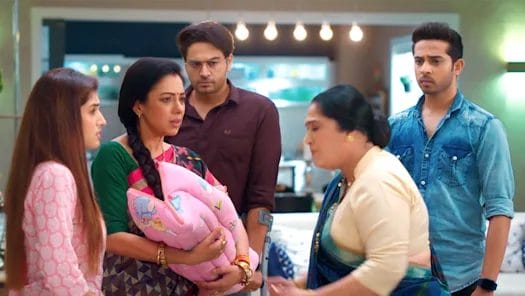 Anupamaa Spoilers, Upcoming Story, Latest Gossip , Future Story, Latest News and Upcoming Twist on Justshowbiz.net

Episode starts with Anuj trying to console Anu as the latter cries stating that she don't want to go along with Maaya. She says that she don't want to leave Anuj and Anupama, while the latter assures that he won't let anyone separate her from them. Anuj gets emotional and shows his concern towards Anu. She questions that why Maaya came back after so many years? She denies to go along with her and proclaims that she will stay there only. Anuj shows his support towards Anu and determines to protect her at any cost.
Here, Maaya determines to get her daughter back and ask Kapadias to return her daughter. Barkha rebukes Maaya and denies to give Anu to her. She ask the latter to go away from there house while Ankush supports his wife's decision. He takes a stand for Barkha and lashes out at Maaya along with her.
Maaya stops them from shouting and says that she is there just to take her daughter back. At that time Anuj also comes there and declares that he won't let his daughter go away anywhere. Maaya gets teary eyes and says that she have all the rights on her daughter and proclaims that they can't keep her away from Anu. Barkha comes forward and ask to call the police to throw Maaya away from there.
Elsewhere, Maaya agrees to involve the police stating that by doing so they will find about the truth. She proclaims that she wanted to resolve the matter without the involved of police, but if they are insisting to call them, then she is fine with it. She states that she is also ready to do the DNA test in order to prove herself right.
Maaya states that Anupama and Anuj will always be the foster parents of Anu and she is her real mother. Barkha questions that where she was when she left Anu without anyone. She ask Maaya that why she left Anu into the orphanage? To which Maaya says that she was helpless at that time. She proclaims that she had some personal issues due to which she left her child.
Ahead, Maaya says that even Ankush have illegitimate child while Barkha ask her not to involve her husband. The latter ask Maaya to tell her reason to leave Anu, to which the latter gets nervous and says that she can't reveal it in front of them. Anuj gets restless and ask her to leave declaring that they will never give Anu back to her. Whereas, she starts her emotional drama and talks to Anupama regarding the love of a real mother.
Maaya tells Anupama that how a mother is attached to her child and talks about the love of a mother towards their kids. She begs her to return back her daughter, while Anupama gives a befitting reply to her. She also scolds the latter for revealing the truth in front of Anu without thinking about the consequences it will have on the child. She rebukes Maaya for her action while the latter insists her to let her meet Anu once.
Further, Anuj denies Maaya's request but Anupama somehow agrees. She sends the latter to Anu's room while Maaya gets emotional upon seeing her daughter sleeping. Anuj gets furious at Anupama for bringing Maaya to their house and then letting her meet Anu. Anupama tells about her perspective and says that they can't do injustice to a mother.
Precap:- Anu shows her love towards Anupama and Anuj but proclaims that even Maaya is her mother. She questions that she will stay with whom? Maaya Or Kapadias? To which Anupama and Anuj looks at one another. Meanwhile, Anu gets rebellious after finding that Maaya left from there. She proclaims that she wants to be with he while Anupama declares that they will ask Maaya to stay with them. Anu gets elated while Anuj becomes shocked with her decision.
Also See:
Anupama 27th January 2023 Written Update: Maaya takes care of Anu