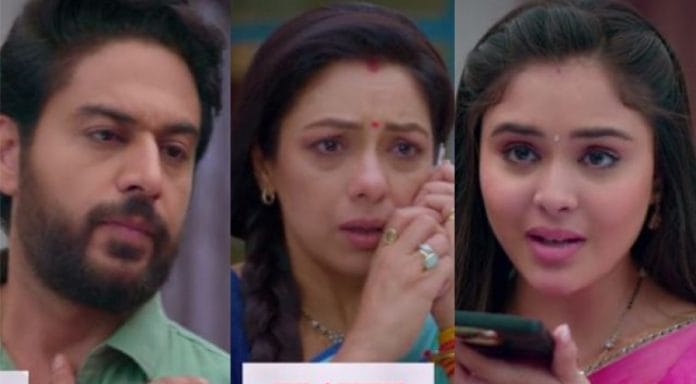 Anupamaa Spoilers, Upcoming Story, Latest Gossip , Future Story, Latest News and Upcoming Twist on Justshowbiz.net
In today's episode, Anuj focuses on decoration. Ankush helps Anuj. He asks Anuj to seek help. Anuj agrees. Ankush says to Anuj that he didn't asked but he is sure something happened between Anupama and him. He asks Anuj if he is fine. Anuj confesses to Ankush that he isn't fine but relaxed pouring his heart out to him. He says when he was hiding truth he was hurt. Anuj says he is relaxed that there is no misunderstanding between them. He wishes good for Anupama. Ankush asks Anuj if he don't want anything. Anuj says Anupama's skill is getting praised and he just wants her happiness. He adds he wants whole world to see her skill. Ankush asks Anuj what about MaAn's love story. Anuj says he is clueless. He says he makes himself believe that not all love stories gets a happy ending. Anuj says such half love stories are beautiful in themselves. He adds Anupama and he isn't together but love is constant.
Ankush says to Anuj someone said right the lovers whose name comes together don't stay together. He gives example of Radha Krishna and MaAn. Anupama asks Leela to bring veneration plate. Leela asks Anupama if she will order her to do work. Anupama replies Leela is grandmother. Kavya bumps into Dolly. She was about to pick gifts. Anupama stops Kavya from bowing down. Kavya thanks Anupama. Kinjal struggles with her accessories. Paritosh tries to help. Kinjal asks Paritosh not to look for a way to come close to her.
Also Read Upcoming Story
Hasmuk asks Leela about Kanta and Bhavesh. Leela says both went to temple. Leela orders Bhairvi to clean utensils and keep the flower basket aside. Hasmuk asks Leela why she is making a child to work. Leela says it doesn't matter. Anupama message Malti to come to bless Samar, Dimple. She further asks God to keep everything right during Samar's wedding.
Anupama calls out Samar. Vanraj brings Samar on his shoulder. He says before walking a father's shoulder gives a support a kid. He blesses Samar and asks him not to become a failed husband like him. Anupama gets stunned. Hasmuk, Leela, Kavya, Kinjal, Paritosh, Kanta and Bhavesh get Samar ready and bless him. Leela wish Pakhi would have attended the wedding. Samar says Pakhi isn't with him on his big day. He says he will never talk with Pakhi. Meenu performs a ritual on Pakhi's behalf.
Anupama gets teary while tie turban to Samar. She gives lesson to Samar. Anupama asks Samar to never expect Dimple to be perfect as no one is perfect. She asks Samar to give Dimple an equal right. Anupama asks Samar to keep a balance in life. Leela asks Anupama to give lesson to Dimple as a mother-inlaw. [Episode Ends]
Precap: Anupama gives groom's batch to everyone. Kavya reveals her pregnancy to Vanraj.
Also See: