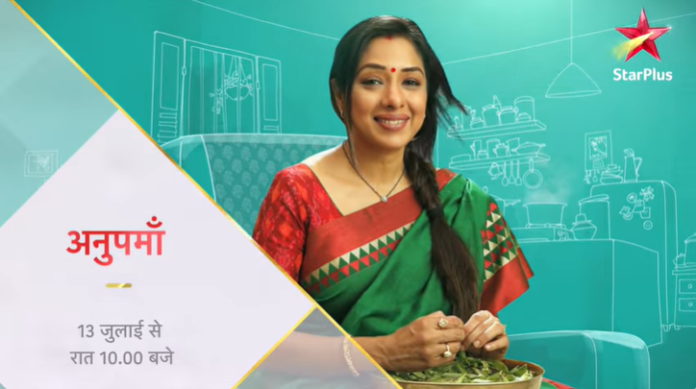 Anupama Upcoming Story, Spoilers, Latest Gossip, Future Story, Latest News and Upcoming Twist, on Justhowbiz.net
Episode begins with Anupamaa tells Vanraj that Pakhi is sad and didn't eat well too because he scolded her in front of everyone in her friend matter. She says Samar, Paritosh and Vanraj's friends too comes to their house.
Vanraj asks is she trying to say he is wrong and Pakhi is right. She says time is changing now so they should trust Pakhi too like Samar and Paritosh. He says Pakhi is kid now, she doesn't know what is right and wrong. He says if she is Pakhi's mother then he is also her father and he knows how to make her understand. She says when a father scolds it affects the kids more than when a mother scolds them.
He says he would have forgave Pakhi for her mistake but she talk
back to him. He asks her to not support them. She says he did right by scolding Pakhi but he has to make her understand too. He agrees to talk with Pakhi.
She thinks to talk about Paritosh and Kinjal too. He says if any child does mistake then their mother also responsible for that so because of their mistake if they had to face humiliation then he won't forgive her and leaves from there. She thinks it's not right time to talk about Paritosh's marriage and says she will keep the promise she did to him.
Samar asks what happened to Paritosh seeing him playing guitar because he plays that whenever he is sad. Paritosh tells him that nothing happened that's why he is worried.
He says he left Kinjal's house believing Anupamaa's promise but she is not talking with Vanraj about his marriage. He says he knows that Vanraj is angry now but Anupamaa is not even starting his marriage talks.
Samar says Anupamaa will keep her promise and asks him to believe her. He says she will keep trying until Paritosh gets his happiness and says he is expecting too much from her. Paritosh says Samar won't understand his situation now because he is not the one who is in love. He feels he did mistake by coming back. He says he needs Kinjal in his life and he can't live without her.
Next day, Vanraj tries to talk with Pakhi but she avoids him. Anupamaa gets worried seeing that. She asks Leela that when they have to start Paritosh and Kinjal's marriage topic. Paritosh smiles hearing her. Anupamaa says they can go to Kinjal's house when Vanraj has off.
Vanraj says they won't go there but Kinjal's family can come to their house to talk about the marriage. Leela says they are groom's family so Kinjal's family to come to their house.
Paritosh asks what if Kinjal's family denies to come. Vanraj asks him to eat quietly. Paritosh says he needs an answer for his question. Leela says when elders talking why he is interfering. Paritosh says their decision affects his life so he has every rights know.
Vanraj scolds him for his attitude and says he doesn't even care about his parents. He says he will handle it in his way. Paritosh says Vanraj doesn't know to handle it that's why everything messed up already. Anupamaa scolds Paritosh and says if Vanraj saying then he will handle it.
Paritosh says Anupamaa lied to him and he should not have believed her without thinking. He says till now no one listened Anupamaa then why will they do now. And says everyone just cared about themselves no one thinking about him.
He says Anupamaa brought him back for Vanraj's happiness. He says Vanraj doesn't even values her then why will he listen her. He says he made big mistake by trusting her. Vanraj and Leela blames Anupamaa saying fight happened because she started the marriage talks.
Samar consoles Anupamaa and says Paritosh behaving weird nowadays and says he is worried that Paritosh may took wrong decision. She asks him to follow Paritosh. Pakhi comes back saying she missed the school because no one cared about her. She says Anupamaa's first priority was always Samar then Paritosh and lastly comes her name.
Anupamaa tries to convince her that time Kavya comes there. Kavya says she came to see Nandini settled in her new house or not and Vanraj told her that they can go together.
Anupamaa says he already left for office. Pakhi mocks Kavya. Kavya gets angry and says Pakhi can't speak with her in this tone and also with Anupamaa too.
Pakhi apologize to Kavya and says Anupamaa can't help her now only Kavya can help her and tells her about Vanraj's double standard behavior. She asks her to explain that one guy and girl can be just friends like Vanraj and Kavya.
Episode ends.
Precap – Paritosh comes home after drinking a lot of alcohol.