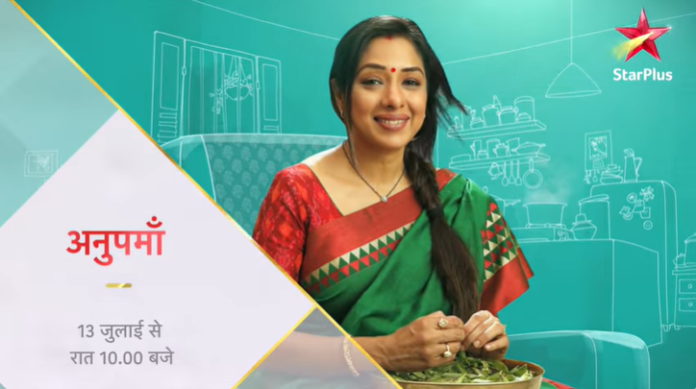 Anupama Upcoming Story, Spoilers, Latest Gossip , Future Story, Latest News and Upcoming Twist, on Justhowbiz.net
Today's episode starts with Samar saying to Anupama after whatever happened, she should move on. Anupama explain to Samar if she has to move on than she has to leave behind many thing, which she can't do. She tells to Samar that she can't break Hasmuk and Leela's heart by revealing Vanraj's truth. Anupama says Vanraj himself will tell the truth. Samar says to Anupama to think about herself instead of worrying for others. Anupama disclose to Samar along with Paritosh, Nandini and Sanjay too knew about Vanraj's truth.
Ahead, Samar confronts Nandini about lying to him. He gets angry on Nandini for hiding Vanraj and Kavya's truth. Samar asks Nandini to stay away from their house and says he hates her.
Here, Devika tells to Anupama and Leela that she has some work and will return sometimes later. Hasmuk asks Devika to.come back as he likes her presence in the house. Samar comes and asks Devika to take Anupama too with her for a change. Devika likes the idea. Anupama says no. Hasmukh and Sweety force Anuapama to go. Leela says if Anupama will go than who will take care of Vanraj. Anupama stands speechless. Vanraj come and Leela asks Anupama to bring water for him. Anupama don't go. Sweety bring water for Vanraj. Anupama decides to go with Devika. Vanraj make faces.
Further, Vanraj goes to Devika and taunts her that she is divorcee thus, she can't see anyone's happiness. Devika replies to Vanraj that than she and Kavya is same. Vanraj stands shocked. Anupama comes and Vanraj asks her where she is going? Anupama reply back to Vanraj that he lost all the rights to question her. Other side, Kinjal's mother try to learn from Kinjal about Vanraj and Kavya. Kinjal reacts. Kinjal's mother decide to expose Vanraj.
There, Anupama returns back home spending time with Devika. Vanraj to scare her closes the door. Anupama asks Vanraj to open the door else he will be mocked only. Vanraj sees Leelaa and Hasmuk. He opens the door. Anupama walks in. (Episode Ends)
Precap: Vanraj meets Kavya.