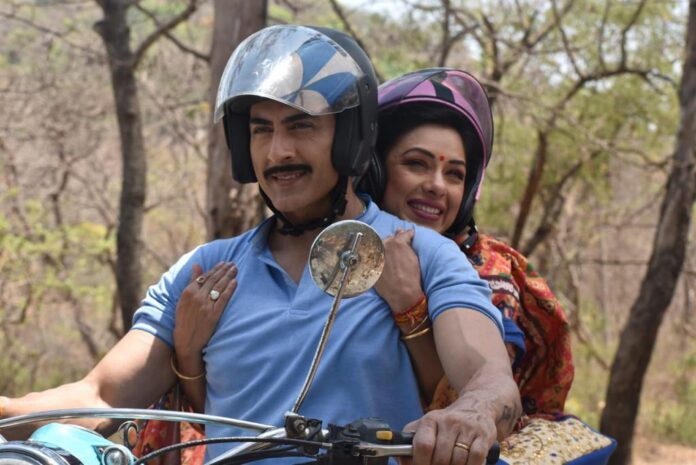 Anupama Upcoming Story, Spoilers, Latest Gossip , Future Story, Latest News and Upcoming Twist on Justshowbiz.net
Today's episode starts with Kavya waiting for Vanraj and Anupama. She thinks it is late and both are not back again. Kavya thinks Leela and Pakhi is trying hard to bring Vanraj and Anupama closer. She gets irked. Nandini comes and Kavya asks her if she is alien. Nandini asks Kavya to stop getting jealous. She asks Nandini to trust Vanraj and if not on Vanraj than on Anupama. Nandini adds Anupama doesn't know to snatch others love rather she only loves to give others. Kavya stands shocked.
There, Kinjal says to Leela and Hasmuk that Anupama and Vanraj might be waiting for them. Leela asks Kinjal not to worry as Anupama and Vanraj are together. Meanwhile, Kavya keeps trying to call Vanraj. She thinks why Vanraj is not receiving the call. Anirudh call Kavya. He asks Kavya to give NOC mentioning that she is transferring the property by her own will and not forcefully. Kavya says to Anirudh she will mail him in a while. Anirudh asks Kavya if she is crying. Kavya asks Anirudh to hang up the call.
Other side, Vanraj and Anupama worries for Shah's. Anupama think where Shah's are stuck. Vanraj asks guard for the mobile. Anupama asks to call at home. Vanraj says he doesn't remember anyone's number. Anupama says she knows everyone's number and asks Vanraj to call Kinjal. Kinjal inform Vanraj about Leela's cramp. She says because of her they are at home. Vanraj asks Kinjal if they show Leela to doctor. Kinjal tells to Vanraj that Leela is fine.
Pakhi comes running and informs to Shah's that protest happening at Ahemdabad road thus, there is curfew. Kinjal tells to Vanraj and Anupama that they have to spend night at resort because of the curfew. Leela gets happy and dance. Hasmuk asks Leela, if it was her plan to send Anupama and Vanraj on vacation. Leela says yes. Hasmuk asks the reason. Leela tells to Hasumk because she wants to save Anupama and Vanraj's relationship.
Furthermore, Vanraj gets happy thinking he will get more time to spend with Anupama before divorce. Here, Anirudh meets Kavya. Kavya asks Anirudh about his arrival. Anirudh tells to Kavya that he decoded she is upset with something thus, as a friend he is here to share her pain. Kavya cries and hugs Anirudh. Anirudh console Kavya.
Afterwards, Rakhi calls Leela. Both gets happy thinking because of curfew Vanraj and Anupama will relive their past and will cancel their divorce. Leela and Pakhi goes to Pandit and asks him to pray so that Anupama and Vanraj's divorce is stopped. Pandit blesses Leela and her family. Meanwhile, Vanraj's uncle and Hasmuk talk about Leela's effort for bringing Vanraj and Anupama close. Hasmuk says only God will decide the faith of the duo.
Here, Kavya pours her heart out to Anirudh. She says she is always accused for loving Vanraj but she alone didn't fallen for him. Kavya cries and Anirudh pacify Kavya. Anirudh assures Kavya he will always support her. Both shares a talk. (Episode Ends)
Precap: Kavya reveals to Shah's that Vanraj and Anupama is going to get separated within three days.