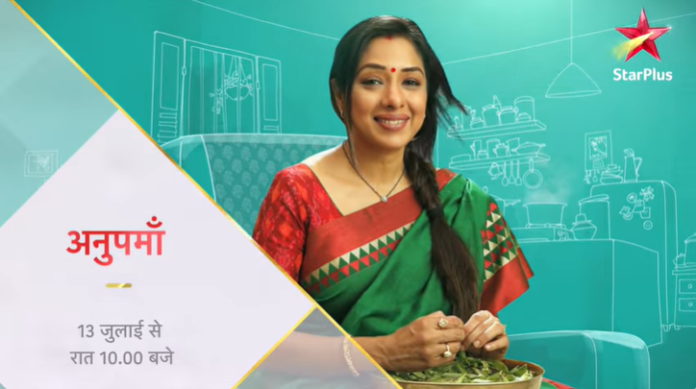 Anupama Upcoming Story, Spoilers, Latest Gossip, Future Story, Latest News and Upcoming Twist, on Justhowbiz.net
The episode begins with Anupamaa says she has to meet Rakhi somehow today but she is not attending her call. Jilmil asks what she will do if she could not meet Rakhi. Leela says even if Anupamaa meets Rakhi nothing will change considering Rakhi's character. She says Vanraj gave her one day that's why she is silent but Anupamaa should not mess up again.
Rakhi stops Kinjal from meeting Paritosh. Kinjal says she won't talk to her too if she won't let her meet him then and leaves from there angrily. Anupamaa calls Rakhi's driver to talk to Rakhi and pleads her to meet her just once for Kinjal's happiness. Rakhi denied to meet her and cuts the call. Anupamaa gets worried thinking how to convince her now and shocks seeing Vanraj there. Kinjal's father calls Anupamaa and informs her that Rakhi will meet her.
Anupamaa gets happy hearing him and tells that to Jilmil. Kinjal's father tells Rakhi that Anupamaa putting a lot of effort into their children's happiness so she also should do something. Rakhi decides to meet Anupamaa to break the relationship permanently. She plans something so Anupamaa herself can break the alliance. Jilmil says there is not anything that Anupamaa can't do.
Paritosh asks Anupamaa to not reach late and she should not do anything which can embarrass Rakhi. He instructs her to how to behave and all. She recalls how she used to teach him everything when he was a kid. He asks her to not order anything saying she won't understand the menu and she should not argue with Rakhi instead she should maintain the peace. He pleads her to convince Rakhi somehow. She says it's strange that she used to teach him everything when he was a kid but now he is teaching her. Anupamaa reaches the cafe to meet Rakhi.
Kavya was complaining about Anirudh to Vanraj but he was thinking about something else and doesn't concentrate on her talks. She notices that and asks what is he doing. He says he is worried because Anupamaa went to meet Rakhi. She gets angry hearing him and says here she is sharing her problems with him but he is worried about his wife. He says she knows what's happening in his house. She says she knows what's happening in his life but does he know what is happening in her life.
She says he is so selfish that he doesn't even care about what's happening in her life and she thinks Anirudh is right about him. Anirudh comes there and says she should concentrate on her marriage life to save that so her boyfriend too can concentrate on his family.
Vanraj asks him to stay away from Kavya. Anirudh warns him to stay away from his wife and they fight with each other. Kavya shouts at them and leaves from there. Anirudh says he will handle his wife and asks Vanraj to care about his wife.
The cafe staff shows the table to Anupamaa which was reserved by Rakhi. Leela waits for Anupamaa's call desperately. Leela's brother teases her for that. Vanraj calls Anupamaa and says she is there as his wife and warns her to not spoil his respect. Rakhi taunts her for using that cheap mobile.
Episode ends.
Precap – Anupamaa says she promised her son and she will keep her promise no matter what and asks is Rakhi ready for the marriage. Rakhi agrees for the marriage.