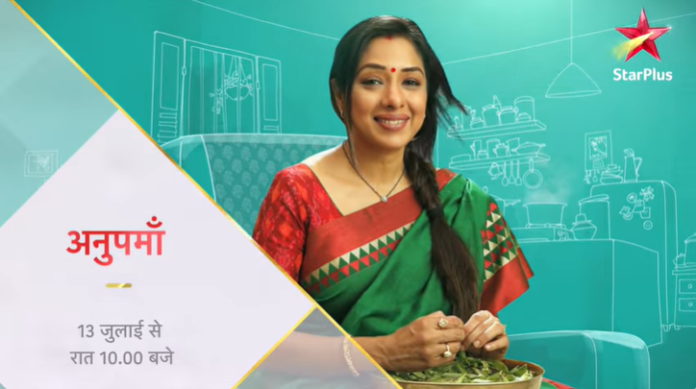 Anupama Upcoming Story, Spoilers, Latest Gossip , Future Story, Latest News and Upcoming Twist, on Justhowbiz.net
Episode begins with Kavya thanks God for giving happiness to her. Valraj and Anupamaa reaches that temple when she was about to slip he holds her. Kavya searches marriage registration office. In Shah house, Samar says celebration will begin from tonight so he and Kinjal will select the dress code because her selection is good.
Paritosh says he will call her but Samar stops him saying he will call her because he and Pakhi has to discuss about the clothes too. Leela tells them to just call Kinjal not Rakhi . Jayesh says only family members going to celebrate which makes Nandini sad then he says she and Kavya is part of their family now. Nandini gets relived hearing him and she notices that Samar signaling something to Paritosh and Pakhi. She asks what are they talking about.
Samar gets nervous and says it's their sibling code they can't reveal to anyone. Leela's brother teases Samar saying he knows that matter. Samar tells them to stop talking and start the preparations to change the topic. Nandini says she have some materials for preparations and goes to bring that. Leela's brother teases Leela's when she talked about her wedding anniversary and praises Jayesh for tolerating her these many years.
Samar and his siblings decides to celebrate their parents anniversary without any issue by giving world's best surprise. Kavya register her and Vanraj's marriage and informs that to him. When Anupamaa was about to book for pooja he takes the note from her saying he will write so she can't see Kavya's booking. Later Nandini searches safety pin in Kavya's purse, she gets confused seeing nuptial chain, vermillion box but shocks seeing the registration slip.
Vanraj tells Anupamaa that after 25 years too she is looking at him the same way she used to look at him when they met first time. She says in her view no one is more handsome than him in this world. And says she become fat but he become more handsome than earlier. He tells her to forget whatever he said but just to remember what he is going to say now and says she is looking so beautiful today. Kavya sees the registration slip on Nandini's hand and takes that from her.
When Nandini asked what is she doing, she tells her about her and Vanraj's marriage. Vanraj tells Anupamaa that their kids not revealing the surprise don't know what they are planning. Anupamaa says she wants to live every moment of this marriage. She says this is not their second marriage instead it's a second chance for them to fulfill their dreams.
Nandini says so that picture and Anirudh was right and asks when Kavya has an affair with a married man instead of feeling guilty she is going to attend his marriage function. Kavya says Nandini too loved someone and everything is fair in love. Nandini tells her to not justify her affair and says she and her lover was single when they did mistake but Kavya's matter is different and she is acting like a selfish. Kavya slaps Nandini hearing her.
Nandini goes to tell the truth to Anupamaa but Kavya stops her saying Anupamaa can't handle this truth. Nandini says she can't stay silent when wrong happening with Anupamaa and sees Anupamaa sharing her happiness with Devika. Kavya says now Nandini has guts then she can tell the truth to Anupamaa. Nandini feels helpless seeing Anupamaa's happiness. She glares Vanraj. Sanjay notices Kavya and Vanraj.
Episode ends.
Precap – Anupamaa wins a competition against Kavya. Kavya gets jealous seeing Vanraj and Anupamaa together.