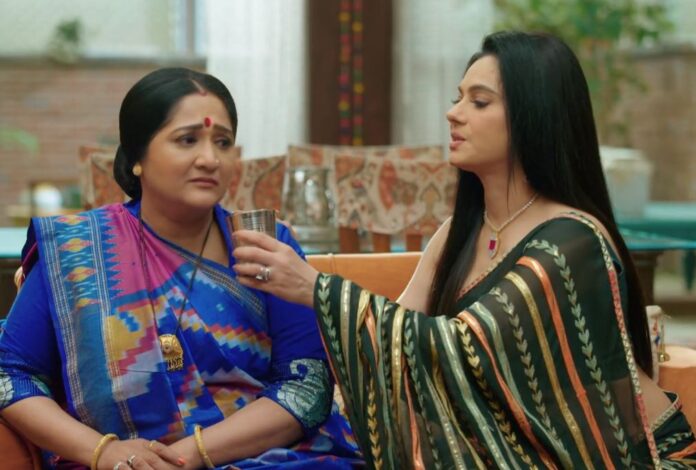 Anupama Upcoming Story, Spoilers, Latest Gossip , Future Story, Latest News and Upcoming Twist on Justshowbiz.net
Today's episode starts with Samar saying why he is feeling bad if Vanraj and Anupama is getting divorce? He says Mr. Shah doesn't gave deserved respect to Anupama than why he is getting affected with the divorce news. Samar gets angry on herself. He says he fear Vanraj might be threating Anupama at the hostel. Nandini comes and Samar gets happy. Samar asks Nandini how she is here. Nandini says he sounded low last night thus, to cheer him for his competition, she is here. Samar hugs Nandini tightly.
Here, Leela and Rakhi thinks Kinjal is pregnant. Rakhi says to Leela that if it is there illusion. Leela says it is not there doubt but Kinjal is pregnant in real. Rakhi waits for Anupama's call. Anupama call. Leela and Rakhi gives good news to Anupama. Anupama gets teary hearing the news. Rakhi decides to get Kinjal tested. Leela says to Rakhi that Kinjal is pregnant. Anupama says Vanraj will be happy too learning the news. Leela prays to God to get Kinjal pregnant as she hope upcoming child might stop Anupama from leaving the house. Meanwhile, Anupama and Rakhi congratulates each other.
There, Nandini asks Samar to leave her as someone will come. Samar says that he doesn't care. He adds he doesn't know how people stays at hostel away from house. Samar says to Nandini, he missed Anupama and her the most. He says he loves her the most. Nandini says to Samar that she loves him more.
Other side, Kinjal learns about pregnant and cries. She says she can't get pregnant. Leela, Rakhi and Anupama gets shocked. Meanwhile, Samar and Nandini dance on 'Jeeya' song. Both hugs each other at the end. Later, Kavya gets adamant to reach the resort. Kavya's driver calls her crazy.
Rakhi and Leela sits with Kinjal. Kinjal refuses to accept the fact that she is going to be mother. Leela asks Kinjal to listen to Anupama once. Anupama on video call along with Leela and Rakhi tries to make Kinjal understand not to panic. Kinjal says to Anupama that Paritosh too is not ready for the responsibility of a child. Rakhi decides to get Kinjal tested first.
Afterwards, police stops Kavya. Kavya urges Police to help her out to go as her husband to be in urgency. Meanwhile, Samar withdraws his name from dance competition. Nandini asks the reason. Samar says Vanraj and Anupama's decision is affecting him thus he can't concentrate.
Here, Rakhi takes Kinjal for the test.
Furthermore, Kavya's effort goes in vain when Police blocks her way. She cries thinking all are after her and Vanraj's love. There, Rakhi takes Kinjal to the hospital. Hasmuk asks Leela what is happening. Leela decides not to tell Hasmuk about Kinjal's pregnancy until they are confirmed.
Later, Kavya learns from pandit that her wedding with Vanraj can't happen. She sits shocked. (Episode Ends)
Precap: Kavya reveals to Shah's about Anupama and Vanraj's divorce.