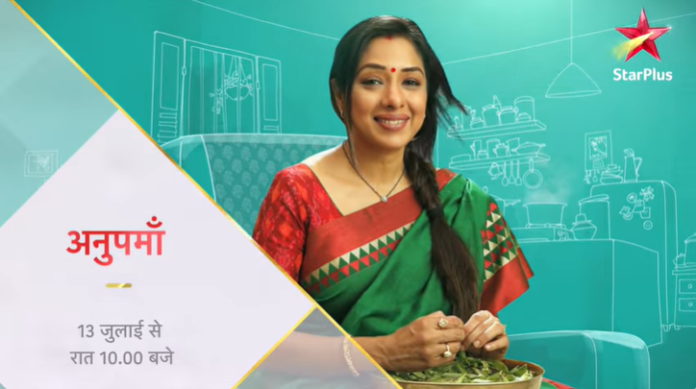 Anupama Upcoming Story, Spoilers, Latest Gossip, Future Story, Latest News and Upcoming Twist, on Justhowbiz.net
Episode begins with Shah family celebrates their happiness by dancing and eating sweets. During celebration Kavya gets jealous of Anupamaa. Pakhi says she wants family picture to upload in social media. Kavya clicks their family photo and thinks without her Vanraj's family is not complete so she won't ask her place to him in his family instead she will take her place. She knows he can do anything for his family so she will become part of his family. Anirudh says he was waiting for right time but there is no right time for wrong things to change into right so he has to act now. Shah family talks with Jayesh in video call.
Leela's brother teases Leela saying she is keep crying because Jayesh is not staying with her. Leela confesses that she misses her husband but never cried.
She says Jayesh should not miss Paritosh's engagement and also they has to rehearse to dance. Jayesh says if Leela pleads then he will come. Leela denied to plead him. Shah family requests Leela to fulfill Jayesh's wish. Leela pleads him and he agrees to come. Leela's brother says if Jayesh coming then their house happiness too coming. Jayesh praises Anupamaa which irks Kavya.
Samar thanks Nandini for helping him in dance to cheer Paritosh. Nandini says he need not to thank her because she did for Anupamaa not for him. He says he would have hugged her if he doesn't feel weird about her. She shocks hearing him.
He says he likes it when someone does anything for his mother. She gets a call from her friend and was about to leave from there. He says he can drop her. She denies his offer and leave from there.
Samar follows her. When Anupamaa asked about Samar Leela's brother was about to tell he followed Nandini but changes the topic. Pakhi says she has to go to Pooja's house for notes so asks Anupamaa to tell Paritosh to drop her there. Anupamaa says Paritosh is so happy today so obviously he will drop her. Vanraj asks Leela to fix a date for engagement consulting a Priest.
Kavya was seeing Shah's family photo and shocks seeing Anirudh there. He says she can't be part of that family photo and he is going to break her dream now. He introduces himself to Anupamaa. Vanraj shocks seeing him in his house.
Anupamaa says she doesn't know he is coming today. Anirudh says Kavya too doesn't know. Anupamaa says so he planned to surprise her. He says it seems like he gave her shock instead of surprise. Vanraj asks how dare he to enter his house. Anupamaa asks why he is talking like this with Kavya's husband.
Anirudh says he came to meet Anupamaa when Vanraj tried to stop him,
he says when Vanraj can spend whole day with Kavya can't he talk with Anupamaa for two minutes. Anupamaa says he should watch his words while talking in front of the elders. He apologize to her. Kavya says Anirudh spoiling their house environment.
Anirudh says Kavya spoiling their house.
Anupamaa pleads him to leave from there saying they should not fight like this in front of others. Anirudh says he would not have come if he knows about their family celebration but now he can't go without telling her. He says the relationship Vanraj and Kavya sharing is more than friendship. He tells her about their affair. Vanraj and Kavya shocks hearing him.
Episode ends.
Precap – Anirudh asks Anupamaa to believe him saying Vanraj doesn't deserves her trust. Vanraj tells Kavya that he has to act like a lovable husband. Kavya asks him to not break her trust.