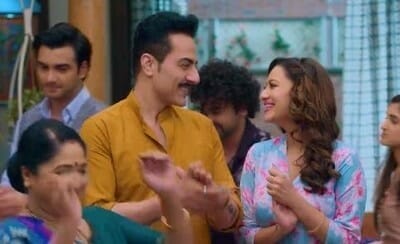 Anupama: Anupama (Rupali Ganguly), Anuj plans grand baby shower, Kavya (Madalsa Sharma) unveils shocking truth
Star Plus popular daily soap Anupama is gearing up for interesting twist and drama in the story.
Anupama is already living in fear of Malti Devi and how she will do anything to question her motherhood.
Anu peps up Anupama's mood with idea of Kavya's baby shower and Anuj too supports them.
Anupama and Anu gets excited to celebrate Kavya's baby shower and make it special.
Kavya's guilt comes as shocker for Vanraj
Kavya on the other hand is going through her own struggle as she feels guilty.
Kavya sees how much Anupama and Shah family are excited and even Vanraj is eagerly waiting for the baby.
Kavya feels guilty as she is hiding a huge truth from Vanraj and family, she couldn't bear the burden of it anymore.
Kavya will unveil this shocking truth on the occasion of baby shower where everyone will be left shocked.
What is Kavya hiding, is she not pregnant with Vanraj's child? How will Vanraj be able to process this truth?
Stay tuned for more exciting updates only on justshowbiz.net