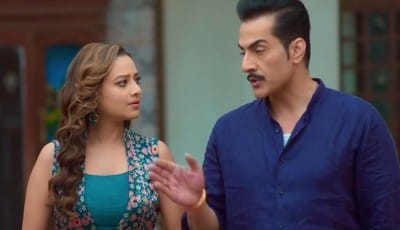 Anupama: Mohit ignites war of identity amid Vanraj (Sudhanshu Pandey) and Kavya (Madalsa Sharma)
Star Plus popular daily soap Anupama is one of the most interesting show on television.
Anupama and Anuj's story is already getting complicated with Maya's entry while it doesn't leave Shah family untouched too.
Here Kavya gets an opportunity to head to London for her work trip and is much excited for the same.
Kavya thanks Maya and Mohit for this opportunity and challenges Vanraj to not dare stop her.
Vanraj and Baa's conspiracy against Kavya
Vanraj and Baa aren't much happy with this London trip of Kavya, Baa asks Vanraj to do something.
Vanraj assures Baa that Kavya won't go and he is ready to manipulate her emotionally.
While this time Mohit catch hold of it and warns Kavya to stay alert of Vanraj as he will try to create hurdle in her way of success.
Mohit ignites Kavya's hatred against Vanraj and thus she snaps at Vanraj when he tries his emotional game on her.
Kavya snaps at Vanraj and insults him for being egoistic and jobless, what disaster awaits ahead with Kavya's this London trip?
Stay tuned for more exciting updates only on justshowbiz.net