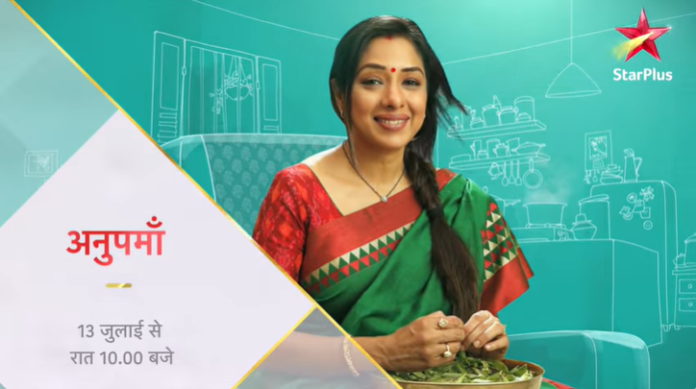 Anupamaa 13th July 2020 Written Update on Justshowbiz.net
Episode begins with Anupamaa prays to God for everyone in her family. Jayesh asks her to wish anything for her too. She says she is asking for her only and takes blessings from her father in law. Jilmil comes to work to do Anupamaa's household chores. Jayesh praises Anupamaa for doing all works alone and tries to eat sweet without her knowledge but gets caught by her. Jilmil laughs seeing that. Anupamaa gives coffee to Paritosh and asks what he is doing. He replies she won't understand. After cleaning his room she goes to Pakhi's room. Pakhi asks her to knock the door before entering. Later Anupamaa goes to her room and wears bangles which matches with her husband Vanraj's necktie colour. She praises him saying he looks younger than his age. For that he mocks her saying she looks too old. She gets sad hearing that. She comes to kitchen and cries recalling what Vanraj told about her. Samar comes there and cheers her by singing song for her. Hearing Leela voice Anupamaa goes to her and takes her blessings. Leela mockingly asks her to handle the budget properly. Jayesh asks Leela that when she will change her behavior towards Anupamaa. Leela says she will never change and the reason he knows too and goes from there.
Pakhi asks what Anupamaa made for breakfast. Anupamaa serves thepla to her. Pakhi says in everyone's house they prepares pasta and all but she have to manage with this. Anupamaa pronounces sorry wrongly. Vanraj corrects her. Paritosh and Pakhi makes fun of Samar and Anupamaa saying they are always looser team. Samar hears that and leaves from there. Anupamaa asks Vanraj to eat instead of doing office work at dinning table. Leela scolds her saying she won't understand the importance of office work. Pakhi denies to take home made food saying she will eat from canteen. Anupamaa says home made food is healthy she won't get pimples too. Pakhi agrees to her after hearing about pimples. Anupamaa was about to eat breakfast but Leela asks her to finish the washing first.
Anupamaa gets happy seeing her friend Devika. Devika takes blessing from Leela and asks her permission to take Anupamaa with her. Leela first denies to send Anupamaa but later agrees. She gets surprised seeing "I am enough" tattoo on Devika's hand and she also gets to know that Devika is a divorcee.
Anupamaa says she feels weird to spend time alone without her family. She gets surprised seeing other friends too. Devika says being mother is not easy and praises Anupamaa. Anupamaa says she is not doing work it's just that she loves her family. Pakhi and Paritosh shocks knowing Anupamaa went out with her friends. Pakhi tries to call Anupamaa. Samar says it's the first time she went out and asks her to not disturb Anupamaa.Vanraj comes home and asks about Anupamaa. He gets angry after Leela informed him about Anupamaa.
Anupamaa dances and her friends cheers for her. She recalls how she used to do kathak in this temple and enjoys it. She says she met herself after long time and thanks her friends. She comes to house. Vanraj shouts at her. She says she already prepared everything before going out and asks they didn't see that. He pushes her outside house and closes the door from inside.
Episode ends.
Precap – Vanraj says Anupamaa broke this house rule.