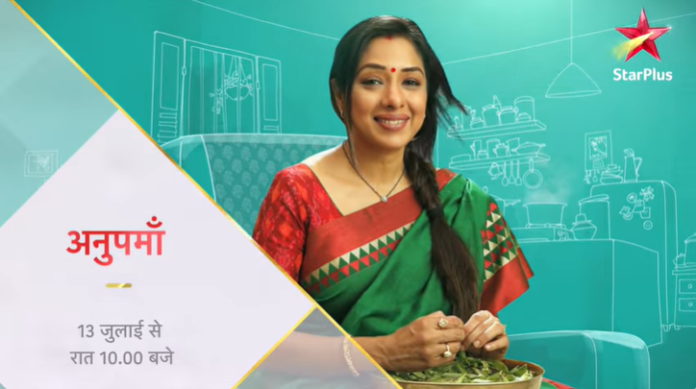 Anupamaa Upcoming Story, Spoilers, Latest Gossip , Future Story, Latest News and Upcoming Twist, on Justhowbiz.net
Episode begins with Anupamaa and Vanraj tries to indulge themselves in their respective work because they were missing Paritosh lot.
Samar sees them and thinks Paritosh should have witnessed their situation and how they feels without him. Samar says wherever Paritosh is he is safe there and requests his parents to go to sleep. Paritosh watches his house from outside and thinks lights are still on so maybe his parents waiting for him and recalls how Vanraj asked him to leave the house and cries. Samar turns off the lights. Police comes to Vanraj's house and informs them that they got Paritosh's wallet and id cards in accident spot the boy is dead.
And it turns out to be Anupamaa's nightmare. She goes to pray to God for Paritosh. She tells the God to take her life before giving these kind of dreams. She goes outside and opens all the door. She wakes Samar. He asks did she had nightmare.
Anupamaa nods at him. He gives water to her and says he will call Paritosh again and says his mobile is off still. He tells her that he will call Paritosh's friend and calls Kinjal and asks her to check on Paritosh now. Samar shows Paritosh's sleeping picture to her and says he is sleeping peacefully so she need not to worry about him now. She says he is not sleeping peacefully his position says he struggled lot to sleep there but feels little bit relax thinking he is sleeping at least.
Next day, Anupamaa prays to God that a father loves his son lot even though doesn't express it openly and asks God to return Paritosh to Vanraj. She keeps staring the door and cries hugging Leela.
She says she knows that Leela is angry on her and asks her to tell how to bring Paritosh back. She says she will do whatever Leela asks her to do she just wants her son. Leela tells her one story and says humans fails to trust the God when they are in problems and asks her to trust the God and the trust is mother's biggest strength.
Anupamaa tells Jilmil that today she will prepare Paritosh's favorite food and asks her to help her. Jilmil was about to say Paritosh is not here but stops and says today they have to prepare Ganapati's favorite food too. Anupamaa says she knows and will prepare the food with full trust.
Samar tells Pakhi that yesterday he could not tell Anupamaa about the cigarette he found in her bag but today he can't hide it. Pakhi asks him to tell her and she will tell her that it's not hers. He asks if it's not hers then how it reached her bag. She says she already informed him and stops seeing Anupamaa there. She gets worried and Anupamaa sees the cigarette pocket in Samar's hand.
Episode ends.
Precap – Rakhi comes to Vanraj's family and tells them about her second condition and how Paritosh agreed to live in her house to marry Kinjal. Vanraj gets angry and cuts all ties with him.