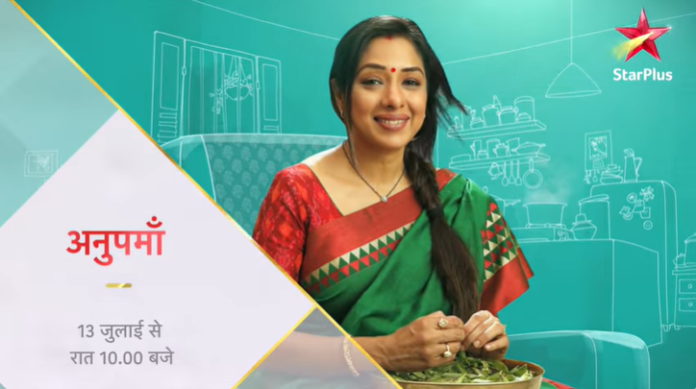 Anupamaa Upcoming Story, Spoilers, Latest Gossip, Future Story, Latest News and Upcoming Twist, on Justhowbiz.net
Episode begins with Anupamaa asks Samar to leave from and moves to Pakhi with the cigarette pocket and asks is this hers. Pakhi says it's not hers her friend put it in her bag to trouble her and she is telling the same thing to Samar but didn't believed her. She swears on God saying she doesn't smoke.
Anupamaa says Pakhi need not to swear because she knows that she won't do anything wrong and won't lie too. Pakhi hugs her and cries and thanks her for trusting her.
Anupamaa says this trust should come from both sides and asks her to tell her mother first if anyone troubles her or anything happens by trusting her mother.
Pakhi asks her to not tell this to Vanraj. Anupamaa says she won't tell him and will asks Samar to stay silent. Pakhi says she misses Paritosh a lot and doesn't feel like to go to school. Anupamaa says she has full trust that he will return.
Anupamaa tells Vanraj that after talking with Leela she believes that they will get the news of Paritosh definitely. They goes outside hearing car's horn sound and shocks seeing Rakhi. Samar thinks if she tells that Paritosh staying in her house then it will become big problem. Rakhi says first she thought to call but then decided to inform them personally.
Vanraj asks what is the reason for her drama. Rakhi says Paritosh came to her house after leaving his house. Vanraj shocks hearing her. Rakhi says he is keep apologizing to her saying he loves Kinjal so much. She says she tried to make him understand that one should not leave their parents for a girl but he was adamant so she accepted him seeing his stubbornness.
Anupamaa asks is she okay with Paritosh and Kinjal's marriage. Rakhi says she was ready for their marriage earlier too but just put one condition. Vanraj says that condition won't be fulfilled. Rakhi says she knows that so she put another condition in front of Paritosh and he too agreed immediately.
Anupamaa asks what was the condition. Rakhi says she told him to live in her house after marriage. Everyone shocks hearing her. Rakhi leaves from there saying he is so happy in her house.
Furious Vanraj cuts all ties with Paritosh and says Shah family doesn't have any relation with him from now and no one will take his name too. He says Paritosh is dead for him from today. Paritosh recalls the moments he shared with his parents.
Kinjal's father asks him to think again about his decision and says no one can stay happy leaving their parents. Rakhi scolds him and says it's about her pride now not just Kinjal's love. She asks him to act like Kinjal's father not Paritosh's.
Anupamaa tells Leela that she will bring Paritosh back home and Leela only taught her that turst is mother's biggest strength. She says she is going to fulfill the responsibility of a mother and wife and prays to God to let her successful in this mission.
Kavya says she is not understanding that how Paritosh took this big decision and suggests Vanraj to go for a long drive. She says they didn't got to spend time together. He says she was busy with Anirudh that's why.
She says she was just trying to cheer him. He says she knows how much disturbed he is still she is fighting with him instead of understanding him. She says he started the fight. Anupamaa reaches Kinjal's house with Samar. She says Paritosh left the house but she will take him back.
She says she isn't asking him to cut all ties with Kinjal's family like he did with them and was about to hold his hand but Rakhi comes in between them. She tells her to not come between her and her son.
Episode ends.
Precap – Anupamaa says Kinjal is her daughter and she will fulfill the promise she did with her daughter. Vanraj doesn't allow Anupamaa and Paritosh to enter his house.