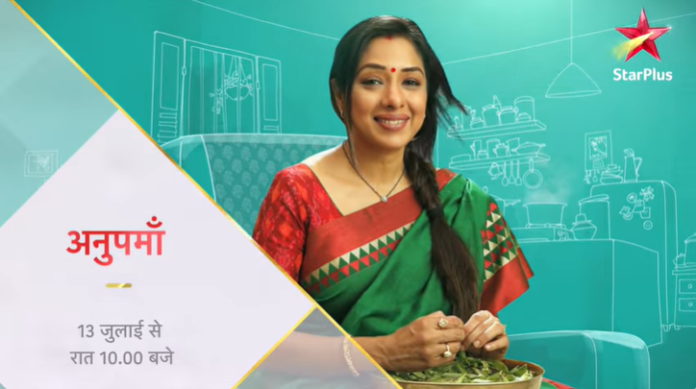 Anupamaa Upcoming Story, Spoilers, Latest Gossip, Future Story, Latest News and Upcoming Twist, on Justhowbiz.net
Episode begins with Rakhi says Anupamaa coming in between Kinjal and her happiness but she won't let her successful. Anupamaa says Kinjal and Paritosh's happiness is same then why she will interrupt.
Rakhi says Anupamaa came to bring Paritosh because she wants Kinjal as her daughter in law but she can't live happily in that middle class family. She asks what's the guarantee that everyone in her family won't treat Kinjal the same way they are treating Anupamaa. She says Anupamaa will make Kinjal just like her.
Samar asks Rakhi to stop and says she doesn't have any rights to insult his mother. Rakhi asks him to stay quiet when elders are talking. He says he would have stayed silent if she didn't crossed the limits.
Anupamaa says as a parents they fulfilled their responsibility till now but now their children have rights to took decisions for their life and future doesn't comes with guarantee card. She says they tried to give all happiness to them but doesn't mean they can't choose their way.
She says they should not stop their children just because they are afraid of future instead they should stand beside them so whenever they needs them they can help their children. Rakhi says she doesn't need to learn from Anupamaa that what is right and wrong for her daughter.
Anupamaa says Kinjal is her daughter and she will keep the promise she did with her daughter and says she didn't came to create drama instead came to take her son. Rakhi says Paritosh won't go anywhere and asks him tell them that. Paritosh stays quiet.
Vanraj hallucinates Paritosh and breakdowns. He says Paritosh didn't just broke his pride, he broke him too and cries. Anupamaa holds Paritosh's hand and takes him with her.
Vanraj reaches home and asks Anupamaa to bring water. Leela tells her brother that Vanraj already seems angry and if he gets to know that Anupamaa went to bring Paritosh then don't know what will happen.
Vanraj asks Leela about Anupamaa before she says anything Anupamaa comes there with Paritosh. He recalls Paritosh and Rakhi's talks and asks them to not enter his house.
He says he already warned her to not go behind her son if she does then she has to forget her husband, now she can't stay in his house. Anupamaa says she went outside for her husband because his heart broken that's why she went to bring back his son. She enters the house with Paritosh and pushes him in front of Vanraj.
She says everyone can see Vanraj's anger but only she knows how much hurt he is. She tells Paritosh that till now Vanraj forgive him for his every mistake but this time he won't forgive him easily and he has to earn his forgiveness.
Paritosh asks Vanraj to scold him, hit him but don't stay anger. He cries hugging him. Vanraj leaves from there without saying anything. Leela says Vanraj is still angry but everything will be fine. Anupamaa thanks God for the beginning.
Vanraj thinks Paritosh lost the trust he had on him now he has earn it. Anupamaa prepares Paritosh's favorite dishes. Leela asks what Rakhi told about the marriage and says she doesn't have mother in law that's why she is like this.
Paritosh apologize to Samar for hitting him. Samar says it's okay and asks him to not hurt Anupamaa and Vanraj. Pakhi says how can Paritosh leave her with Samar. Paritosh apologize to her. He hugs Anupamaa and cries. She says she made his favorite sweet dish and feeds him.
Episode ends.
Precap – Vanraj tells Kavya that Anupamaa lives in his home but Kavya lives in his heart. They shocks seeing Sanjay there. Anupamaa tells Vanraj that she got call from Sanjay.