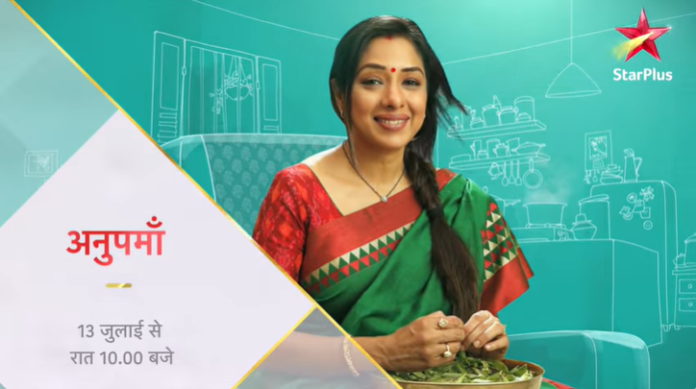 Anupamaa Upcoming Story, Spoilers, Latest Gossip, Future Story, Latest News and Upcoming Twist, on Justhowbiz.net
Episode begins with Vanraj scolds Pakhi for roaming in bikes with friends saying he is sending her school to study not for anything else. He says whatever happened today, which should not repeat again.
Pakhi says he is just her friend and asks can't he even drop her. He says he doesn't want colony people to talk about them. She says he too picks and drops Kavya, if she does then it's wrong but not for him how. He gets angry and says she can't teach him now that what is right and what is wrong.
Leela scolds Anupamaa saying she is spoiling her childrens. He asks Pakhi to not forget that he is her father before talking back to him. Pakhi apologize to him and leaves from there.
Leela asks him to be strick with his childrens otherwise they will leave the house one by one. Leela's brother says small mistakes happens in this age.
Anupamaa follows Pakhi and tells her that Vanraj is already worried about Paritosh and now she talked with him like this. She says Pakhi is not wrong but the way she talked with Vanraj is wrong.
Pakhi asks her to stop the drama saying Anupamaa can become good wife and daughter in law but she can't become friend to her childrens. An iPhone gets confused hearing her. Pakhi says friends doesn't reveal each other's secret. Anupamaa says he is talking about her marks and school report which she tells him.
Pakhi asks what's the need of telling those small things to him. She says Anupamaa will tell him about the cigarette matter too soon because Anupamaa doesn't care about what she thinks that's why she asked her to apologize to Leela even though the mistake was hers. She says she sometimes feels Anupamaa just love her sons.
Anupamaa asks how can she think like that. Pakhi says Anupamaa always worries about Paritosh and Samar only. She says Anupamaa went to Kinjal house for Paritosh but today she didn't took stand for her that's why she hates her.
Leela instigates Vanraj against Pakhi. That time Sanjay comes there and says when small mistakes starts to destroy everything no one can know.
Anupamaa comes there and says Sanjay didn't informed her that he is coming to house. Sanjay says he came to give the ice cream and gives that to Anupamaa. He says he caught Vanraj today otherwise he always comes late from office.
Anupamaa goes to prepare something to eat. Vanraj takes Sanjay with him. Vanraj tells Sanjay that Kavya was tensed with her problems and he was just consoling her and didn't realized when he went overboard and asks him to not misunderstand them.
He says she is just a good friend of him that's it. Sanjay says definitely one thing is wrong that can be what he thinks or their relationship. He says he doesn't want explanation from Vanraj but just wanna say there is different between family and family friend.
He says when head of the family does mistake, whole family will suffer. He says he and his wife too works and also knows that they can have many friends but relationship should be maintain with just one person.
He says Anupamaa is like sister to him and he saying all this because it's about her happiness and trust. He says he is talking with him as Anupamaa's brother not Dolly's husband. He warns him that Anupamaa's trust should not break.
Samar and Nandini argues with each other. He asks her to look other house saying he can't tolerate her. She says her friend already suggested one house but she won't go because she can't see him happy.
He asks why she is shifting just by bicycle. She mockingly says for one suitcase she can't call truck that's why. He acts like he is shocked hearing her and asks is she really girl because she came with just one suitcase.
She says physical or emotional she doesn't carry anything extra. He gets serious hearing her then tells her to not ask him if she wants anything because he doesn't have time for useless things. Anupamaa says Sanjay seems tensed and asks is anything wrong with him.
Sanjay says he is just stressed that's it she need not to worry. She says she will pray for him. He says she is too good and innocent but not everyone is like her. He promises her that he will stand by her side no matter what and leaves from there with Meenu.
Vanraj hears their talks. Kavya recalls restaurant incident and gets worried and asks Vanraj what happened. Vanraj says Sanjay didn't tell anything to Anupamaa. Anirudh mocks Vanraj and Kavya's affair.
Episode ends.
Precap – Anupamaa asks Vanraj to believe her as mother. He says it's her last chance.