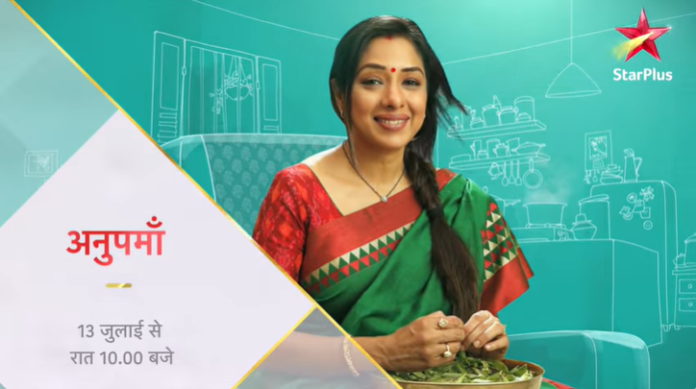 Anupamaa Upcoming Story, Spoilers, Latest Gossip , Future Story, Latest News and Upcoming Twist, on Justhowbiz.net
Episode begins with Kavya says Vanraj never stays away from mobile but today he forgot everything for his family, he even forgot her. She says she thought to not spoil his mood on festival day but when he doesn't care about her emotions then why should she. Meenu informs Vanraj about Kavya's call. He was about to go to get his mobile but Dolly stops him saying it's time to tie rakhi. Pakhi comes with rakhi. Nihar says he will get best rakhi and he gets so happy seeing his rakhi. Leela shocks seeing the rakhi and asks who changed the rakhi. Samar says no one changed anything instead this is Pakhi's handmade rakhi. Anupamaa gets surprised hearing that. She talks with Jayesh in video call and says she is so happy with Pakhi's handmade rakhi and seeing everyone together. He says after many years both her mother side and her mother in law family celebrating together so it's obvious she is so happy today. Later Anupamaa's family celebrates raksha bandhan with music and dance. Leela taunts Bhavesh for the gift he gave it to Anupamaa. Nihar says his teacher told that one should see the love not the value of gift. Bhavesh says Nihar can't speak with elders like this. Leela taunts his upbringing. Bhavesh asks Nihar to apologize to Leela. Meenu asks why Nihar should apologize when Leela is wrong here by starting the fight. Dolly asks Meenu to stay silent. Leela's brother changes the topic. Meenu cheers Leela.
Jilmil stands alone seeing the rakhi she brought for Vanraj. Vanraj notices that and asks her to tie the rakhi. Jilmil hesitates to take gift from him. Leela thinks why he is giving one thousand rupees to Jilmil. Anupamaa thinks she was just a normal girl before marriage but after married Vanraj she became special and dance with him in her imagination. Anupamaa's mother notices the happiness on Anupamaa's face. She asks her to share the happiness with her saying she never shares her worry. Anupamaa says her dreams are small and so her world and she just wants her family's happiness that's it and wants to see both of her family's together at least once in a year.
Jilmil asks why Anupamaa crying again. Anupamaa says it's tears of happiness. Anupamaa's mother blesses Jilmil for taking care of her daughter. She says she need not to worry about Anupamaa if Jilmil is there and gives gift to her. Jilmil hesitate to take. But Anupamaa's mother says first time she is giving something to Jilmil so she should accept that without any hesitation.
Vanraj hears Kavya's voice message and gets to know that the next day Anirudh coming and going to stay with Kavya in her house so she have time to meet him today only. He thinks with which rights Anirudh going to stay with Kavya and calls Kavya but she doesn't picks his call. He shocks seeing Samar when turned to go. Samar says if Vanraj talked with his girlfriend then asks him come inside. Vanraj shocks hearing him and asks what he meant by that. Samar says office work is Vanraj's girlfriend and he was talking about that only. Vanraj gets angry with Samar's joke. Samar apologize to him.
Episode ends.
Precap – Samar says there is no mistake of Anupamaa and Vanraj slaps him. Anupamaa cries seeing that.