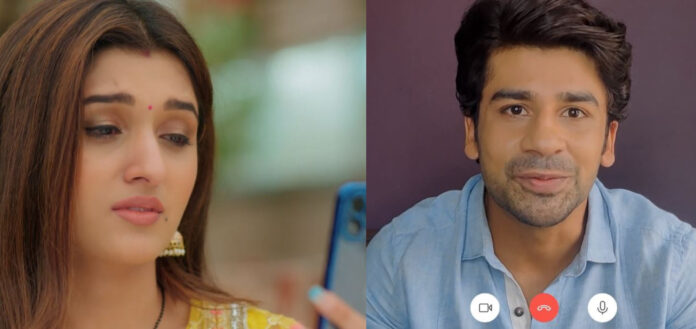 Anupamaa Spoilers, Upcoming Story, Latest Gossip , Future Story, Latest News and Upcoming Twist on justshowbiz.net
Star Plus most popular hit show Anupama never failed to engage audience with its gripping storyline. Earlier it's seen that Kinjal felt bad seeing Baa and Rakhi's happiness while Kavya tried to reach Vanraj making false claims. Now it will be seen that Kinjal will be tensed about her pregnancy while Vanraj will encourage Samar for his competition.
In the past episode, we have seen that, Samar got tensed thinking about Vanraj and Anupama's divorce. Nandini comforted him and they both spent time together. Baa and Rakhi made plans regarding Kinjal's pregnancy. Kinjal got sad seeing their happiness. They shared the news with Anupama who got excited equally. Later, Kinjal left with Rakhi for check up. Kavya on the other hand, tried to reach Vanraj's place claiming that he was critically ill but did not succeed in her plan. Later Kavya visited Pandit for finalising her marriage date. Pandit claimed that their horoscopes doesn't match and they can't get married shocking Kavya.
In the upcoming we will see, Kinjal will be back home after giving test. Rakhi will inform that they will get the result the next day. Samar will be tensed about the competition. Nandini will make video call for Vanraj to encourage Samar for the competition. Vanraj and Samar will have an open talk and Vanraj will ask him to bring the trophy home for his mother. Anupama will thank Nandini for making them have a heart felt talk. Pandit Ji will tell Kavya that Vanraj is not sure about his marriage with her. He will advise her to get married soon. Kinjal will be scared about Toshu's response over her pregnancy. Toshu will video call Kinjal and says about his friend's unplanned pregnancy. She will get worried hearing Toshu completely against unplanned pregnancy. Kavya will try to sneak into Vanraj's house to get the divorce letter as Lawyer will deny giving her details.
Will Kavya succeed in getting her hands on divorce papers? Whether Toshu accept Kinjal's pregnancy? Will Samar win the competition?
All these questions will be answered in the upcoming episodes.
To know what will happen next in your favourite show Anupama, stay tuned to this space.