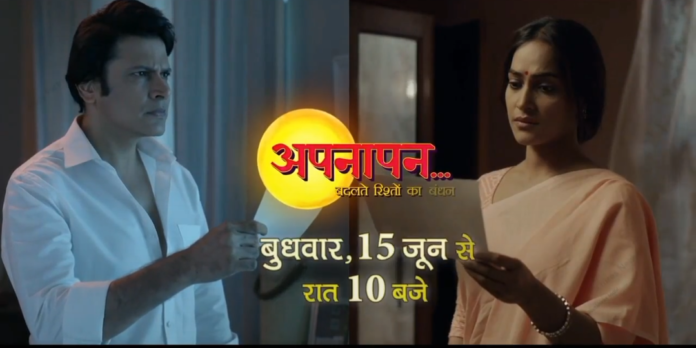 Appnapan Upcoming Story, Spoilers, Latest Gossip, Future Story, Latest News and Upcoming Twist, on Justhowbiz.net
Episode begins with Sonali thinking I shouldn't be scared, I will scare them no one can scare me. She locks the door and gets bit relieved. Sonali holds a mosquito killing bat and thinks to beat the person behind the door. Sonali beats the person and it turns out to be Nick. Nick says are you mad? Sonali says sorry, I was worried since when Pallavi has come. Nick says don't blame on Pallavi. Sonali says I am seeing your behaviour is changing due to Pallavi's coming, I know I am not mentally good but how can you behave like this. Nick says I am sorry, my life has changed a lot. Sonali says I will make everything right for us, we are one only now as I am your wife. Nick sees the blackmailers chit on floor. He is about to bend when Sonali hides it and says let me put balm on you. Sonali puts balm on his hand and asks him when they will become real husband and wife like consummate our marriage. Nick says children are really worried let things fall into place then we can see. Nick goes. Sonali thinks I need to find about Mayank.
Next day, Sonali is up early and thinks to go out. She hears someone coming so she hides. Dadi and Nani come and ask her what is she doing here in the morning? Sonali says I was just up early. Dadi and Nani ask her to make tea for them. Sonali agrees forcefully. Sonali thinks to leave soon as if Pallavi wakes up it will be difficult for her to leave. Dadi and Nani make her work hard and prepare two different kinds of tea. Dadi deliberately makes her tea fall and then asks Sonali to again make it. Sonali says I will just come after changing. She leaves. She comes to room and sees Nick sleep so she changes and leaves. Nick thinks I will play Sonali's game and make her loose. Nick gets a text from Nani.
Flashback is shown Nick says to Nani to have a peg together when she says you married Sonali and I don't know why. Nick says how he never married Sonali. Nani is shocked. Nick tells her how he understood that when Sonali went to meet Pallavi before the wedding, Pallavi's mood changed and she refused to marry him so I knew Sonali is playing some game and decided to fake the marriage as Pallavi was forcing him to marry Sonali. Nick says I knew it that Sonali is hiding something so I had to pretend to know her real motive. Nani says you could have shared with me, I would have helped you. Nick says I was just trying not to reveal my real motives to Sonali at all. Nani says I will help you keep track on Sonali and find out what Pallavi is hiding. Flashback ends and Nick decides to follow her.
Sonali is about to go out when Pallavi stops her and asks her where is she going. Sonali says I don't need to inform you. Pallavi says but atleast you can tell me. Sonali says I am going to doctors. Pallavi says let me accompany you. Sonali says I am not going for picnic. Pallavi says taking an elder sister will help you Sonali, so I insist. Just then Nick also comes. Soni thinks this whole family is full of drama, I can't let anyone find about what happened 18 years ago. Sonali says I am going to cafe as Badal and Mana are coming. Pallavi says kids are coming? Sonali says yes my son Badal and my kids, then we can discuss on how to name the cafe on Badal's name. Nick says so I will also go with you. They both leave. Sonali says we are going on breakfast date. Pallavi stops Nick.
Episode ends.
Precap – Sonali is shocked to know Mayank is in the mental asylum. Here, Nick gets determined to find out about what Pallavi is hiding.
Click to read
Appnapan 9th November 2022 Written Update: Pallavi pledges to find Sonali's deep dark secret!