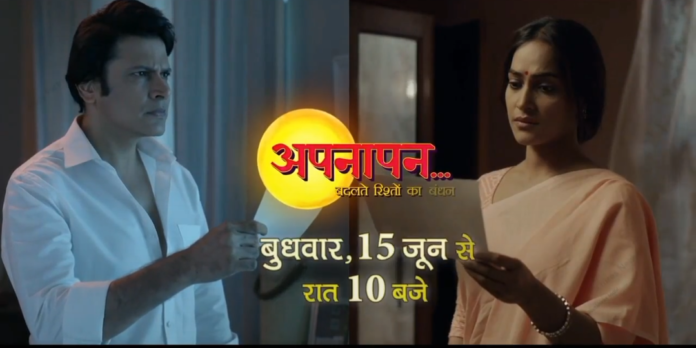 Appnapan Upcoming Story, Spoilers, Latest Gossip, Future Story, Latest News and Upcoming Twist, on Justhowbiz.net
The episode starts with Mana and Badal scaring Dadi. Dadi gets scared and she feels good seeing them and asks where are her other grandkids. Mana says they are coming and tells her that it's her first Diwali in India and shows ger their WhatsApp group. Dadi asks her to add her to their group and says she has great news for them and reveals to them that Pallavi is returned. Mana feels happy but Badal is unhappy. Dadi asks why he looks angry. Badal vents his frustration and says mom left leaving her kids and she returns after one month assuming everything gets settled but nothing is going to change as everything is broken. Badal says they don't have any part in Pallavi's life and Pallavi wants us to fight with problems but she runs seeing problems.
Dadi makes him sit. She says I know that you guys are getting affected because of Nick and Pallavi's fight but trust me there is something important behind Pallavi's disappearance and her decisions. Mana says true, you're with mom for many years and you may know that kids are everything to her as I understood it by staying with her for less time. Badal says he can't forgive Pallavi as she ruined her kid's dreams by not marrying Nick. Badal asks Mana to prepare a welcome cake for Pallavi. He leaves for his room. Dadi says Badal has so much anger for Pallavi. Mana says Pallavi loves him so much and wishes Badal understands mom. Dadi thinks Pallavi loves Badal more than her kids and wishes he can understand Pallavi.
Sonali, Nick, and Pallavi drink coffee. Sonali asks Shanky to join. Shanky says he is busy and leaves saying he will ask Karunika to manage the cafe. Pallavi thinks why Karunika didn't leave the cafe. She feels tense thinking Sonali may recognize Karunika if she sees her. Pallavi sees Karunika coming there. Pallavi diverts Sonali's attention and signs Karunika to leave. Karunika understands her sign and leaves. Sonali continuously receives calls. Nick asks her who's calling her. Sonali goes to the washroom telling them some excuse. Pallavi is about to follow her. Nick stops her and asks if she is going behind Sonali. Pallavi denies. Nick asks her to not hide anything from him and confronts why she is not telling him anything. They recall how they stopped their marriage. Pallavi leaves.
Sonali on the calls says to the person the only reason she kept Mayank in the mental asylum was because he worked there, the person replies he had to leave Mayank because she stopped paying him for the last 3 months. Sonali drops her phone in shock. She asks why he left him alone and what if Mayank escaped. The person informs her that he left Mayank in her place. Mayank enters the house saying Sonali's name. Mana asks Badal to help her to prepare a welcoming cake. Badal helps her and says why Pallavi left with Sonali even after knowing that we are coming. Mana says mom may have work and That Sonali is giving stress to mom and these problems are because of Sonali. Mayank thinks he can't hear anything against Sonali. Mana drops the knife. Mayank takes the knife. Mana and Badal get shocked to see him. They ask who is he. Mayank drops the knife and asks them where is Sonali. Mana asks how he is related to Sonali. Mayank says Sonali is his wife. Mana and Badal get shocked.
Episode ends.
Precap – Nikhil does not understand what truth Pallavi is hiding, he tells Shanky that he is worried it might harm his entire family. Karunika and Mayank confront Sonali. Mayank asks Sonali why she played with his life.
Click to read
Appnapan 10th November 2022 Written Update: