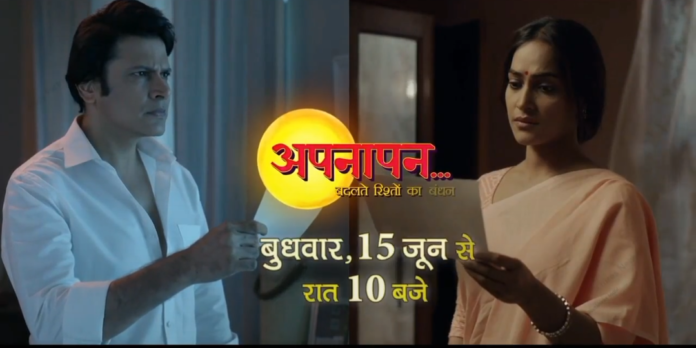 Appnapan Upcoming Story, Spoilers, Latest Gossip, Future Story, Latest News and Upcoming Twist, on Justhowbiz.net
The episode starts with Sonali sharing to Pallavi that she got enough. Her son watching this drama everyday and struggling here. She says to Badal that his mom is here. She will take care of him. He doesn't deserve this middle class life. Badal asks Pallavi Doesn't she left him for this reason? Sonali was returned that is why she left from there stop the wedding. Pallavi asks him why he is talking like that? He was breaking her heart? Sonali says that she was breaking his heart. Doesn't she showed fake love on him? Just because he isn't her son. Badal asks her Is it truth? Pallavi says to him that she never considered him as a outsider. He is her son she loved him for true. Doesn't she loved him more than anyone? She adds that Sonali left him few years before for her needs. She is back after these many years for her needs. Sonali asks her why should she leave her son for her needs? She separated her son from her. Pallavi says that she is lying. Sonali asks Badal to go with her. Manna asks them to stop it. She asks Sonali why she is forcing him to say his decision. They were discussing about the incident which happened 17 years before. She asks Badal to take his time to answer them. Already elders were taking decisions in their own.That is why they are in this state. She advise him to take one day time to think a lot and say his answer.
Manna adds that Dad Committed a mistake though mom taught a good culture to Badal and loves him as her own. But what did Sonali teach to Badal? Whenever she come here she is creating unnecessary issues. Sonali tried to interrupt him. Manna asks her how could she talk selfish? She isn't giving time to Badal to think about it? He will share his answer tomorrow. Sonal says that she is right. She suggests him to think a lot and take a good decision. She will be always there for him to support her. Manna takes Badal from there. Meanwhile, Sonali asks Nick how could he forgot what happened in between them? Today truth came out in front of him. Sonali asks him to take dinner with her in their room. She says to Pallavi that she didn't see her drama yet. Pallavi feels sorry to Badal. She wish that Badal won't leave her.
Later, karonika comes to meet Pallavi ans inquires her does she find out about Mayank whereabouts? She gets shocked to see Sonali there. She tried to escape from her but she stops her. She asks Karonika that she wanted to know that happened 28th March? What's the need to play this drama to know about it? She says to her that she killed her husband Mahesh with her hand. He learnt about her pregnancy and got angry on her. She may be thinking why he got angry hearing her pregnancy? Because they didn't have any husband and wife relationship. She may be understand the point. Though he isn't ready to give divorce to her. So she killed him with the help of Mayank. She framed it as a suicide. She take over his property and money. She already shared all truth to her. One more thing is left. She says that she won't get her brother Mayank if she search for him too. He is still alive in her custody. Now decision is in her hands. Karonika pleads with her to share where is her brother. Sonali refused to reveal it to her and leaves.
Harsh says to everyone that it seems Dad and mom got separated because of Sonali. Gagan says to them that he isn't able to stay without Badal. What if he go with Sonali? Mana stops him. Bharka says to them that they wants to be together to solve this issue. We can able to manage everything together. Meanwhile, Badal is confused whether to go with Sonali or stay with Pallavi? Sonali comes there and tries to manipulate him. She says to him that Pallavi showing fake love on him. No one is compared to mom. She assured to him that she wants to take him with her. Nick will also accompany them for sure. She is able to give good education to him. He wants to think about their family now. He noticed her bag and asks her Does she going anywhere? She says to him lets leave together. He tells her that her family is here. Sonali tells him let's leave from here. She already packed Nick's luggage and will pack his too. He says to her that he might take decisions. Badal's sibbiling gets surprised to see Sonali there with her luggage. They questions Badal how could he leave then like that? Sonali shares with them that he didn't take his decision yet. Sonali tries to humiliate Pallavi but her childrence give a fitting reply to her.
Episode end
Precap; Pallavi to reveal Sonali's truth to everyone. Nick will lashes out at Sonali
Click to read
Appnapan 14th November 2022 Written Update: