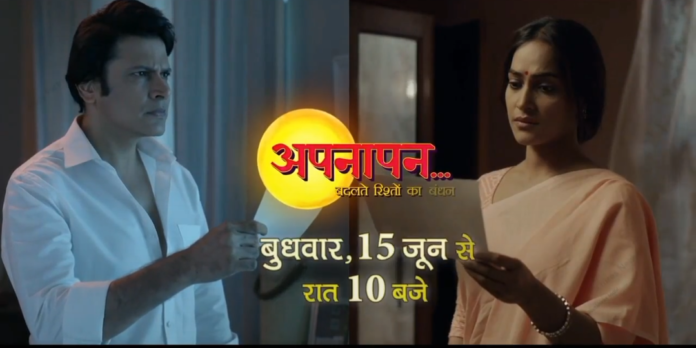 Appnapan Upcoming Story, Spoilers, Latest Gossip, Future Story, Latest News and Upcoming Twist, on Justhowbiz.net
Episode begins with Gagan seeing the video sent by Badal showing how they are enjoying. Gagan shows to Nick saying Pallavi is so beautiful. Nick asks him to sleep. Later, Pallavi is sitting on the bed and is sleepless. Pallavi is wondering about why Nick is still lying to me when he has no obligation towards me. Pallavi then realises that she shouldn't get affected by his lies. Here, Nick sees Gagan awake so he asks him what's the matter. Gagan says I was just thinking about how they are enjoying at home. Gagan says you both raises us separately and made our lives hell. Nick says really? Gagan says yes, you can see it, but there is a chance that you both can come together and make our life beautiful. Nick asks Gagan to sleep. Gagan says Pallavi loves you a lot. Nick asks him to sleep and goes. Nick thinks about what Gagan said and thinks about his and Pallavi's bond.
Pallavi comes to the kitchen to make halwa for puja. Mana comes half sleepy and says dad you came back? Pallavi says it's me. Mana says how when Nick used to make halwa in New York, the whole house smelt like this. Pallavi says I only taught him. Mana says the only difference is he used market ghee. Pallavi asks Mana to sleep as there is time before puja. Mana says I will sit here only and you tell me some of your and dad's story? Pallavi says it has been so long that I don't remember. Mana says I will ask Sonali mausi. Pallavi feels upset and she touches the hot pan. Mana tries to fix her wounded hand. Here, Nick also gets hurt by a knife at the same time. Pallavi gets emotional thinking how she never got the chance to cure Mana's wound. Mana hugs her.
Here, Nick knocks on washroom door to ask Sonali if she will take more time. Nick finds washroom empty. A hospital staff comes and informs Nick that Sonali left for somewhere and at this time it's not safe for a woman. Nick hurries and goes out to search for Sonali. Nick finds a car nearby a jungle. Nick sees Sonali's earrings. Nick calls out for Sonali. Here, Pallavi is getting ready when Dadi praises her. Dadi says you should look beautiful like mata Sita. Dadi says jewelleries were used by Mata Sita to direct Ram ji to find her. Pallavi says what would have happened if those jewelleries were to trap Ram or nowadays like no one can be trusted even women try to take control over men who are not their. Dadi looks on while Pallavi gets in thoughts.
Here, Nick follows the jewelleries and finds Sonali's screams. Sonali pretends to harm herself and beats her head on tree so her head bleeds and it looks like she has sindoor. Nick stops her and holds her. Sonali pretends like she was sleep walking and she didn't know how she came here. Nick takes Sonali with her. Sonali smirks. Here, Dadi says always good will win over evil like it happened in ramayan, I know after so long you and Nick got together so you might be feeling like this. Dadi asks if everything is okay? Pallavi says yes. Dadi says don't worry no matter how strong the evil is, good will always win. Sonali tells Nick about how she is unable to sleep and gets nightmares.
Episode ends.
Precap – Dadi thinks why is Nick so late. Nick and Sonali come back. Nimmi taunts Sonali to be lying. Sonali has her forehead filled so everyone asks if she got married. Pallavi cries and Nick consoles her. Sonali gets upset seeing them.
Click to read
Appnapan 28th September 2022 Written Update: Sonali emotionally manipulates Nick!