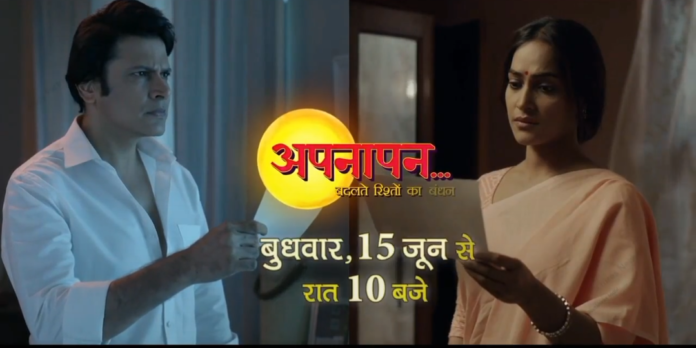 Appnapan Upcoming Story, Spoilers, Latest Gossip, Future Story, Latest News and Upcoming Twist, on Justhowbiz.net
Episode begins with Pallavi lighting candles to get rid off darknes. Pallavi says by giving you chocolate I got alimony, I am happy. Nick says sometimes understanding you is so difficult. Pallavi says you leave it, let's play music. Sonali screams for Pallavi when Pallavi says Sonali is never calm she always irritates me. They are having dinner with music when they remember their old days when they romanced while cooking. Nick praises the biryani. They enjoy the dinner. Here, Sonali is in the room hiding in the blanket scared of the scary music being played outside. She gets restless. Later, Pallavi says my phone got discharged I can't play games. Nick says I am feeling hot let me call the neighbours. Neighbour says we have electricity here but what's your fear? You can make Pallavi and Sonali wind you up. Neighbour laughs while Nick cuts the call. Nick says I am going to see the fuse box. Nick goes. Here, Pallavi comes to her room and feels someone is in the room. Pallavi says Sonali is that you? It's the blackmailer. She unmasks herself. Pallavi says Karunika how is our plan going?
Flashback is shown where Karunika is the masked girl who came to Lolita searching for Pallavi. Pallavi meets Karunika and she introduces herself as sister of Mayank ex boyfriend of Sonali. Karunika says Sonali always used Mayank even after her marriage one day when her husband did suicide Mayank was arrested for fraud in Mahesh's company, I know my brother he wouldn't do anything like that. Karunika asks Pallavi for her help to get to know about his brother. Pallavi agrees. Flashback ends.
Karunika says after Mayank was released he is missing I am sure Pallavi is after it. Pallavi says Sonali is very ill, I thought she will change but she took advantage of me as well, she destroyed my life and family, she is heartless and she still blames me for Mahesh's suicide. Karunika says why? Pallavi says I will tell you in detail. Pallavi says Sonali is after Nick's business and has framed some clauses in the paperwork which is surely missed by Nick as it gives huge authority to Sonali. Pallavi says I can't let Sonali ruin Nick's name and hard earned business, I need to defeat her before she can harm my family.
Pallavi says after knowing about Mayank I doubt if Sonali has a heart, I am scared for my family who is with Sonali, I only had to make my family go through this but now I am worried for them, Sonali is planning something big and very evil, we can't let her win. Karunika says we have scared Sonali well we should continue with our plan. Pallavi says yes, I got betrayed by my own sister Sonali and found a sister in you Karunika. Sonali is in the room scared thinking who knows what happened 18 years back as Mayank is at the place she knows. Here, Pallavi and Karunika hug each other thinking to succeed in their mission as this will be a perfect revenge by a mother and a sister, Karunika.
Episode ends.
Precap – Sonali is shocked to know Mayank is out of the mental asylum. Here, Nick shares his worry with Shanky about Pallavi's changed nature and what she is hiding.
Click to read
Appnapan 8th November 2022 Written Update: Pallavi and Nick have a romantic dinner date!