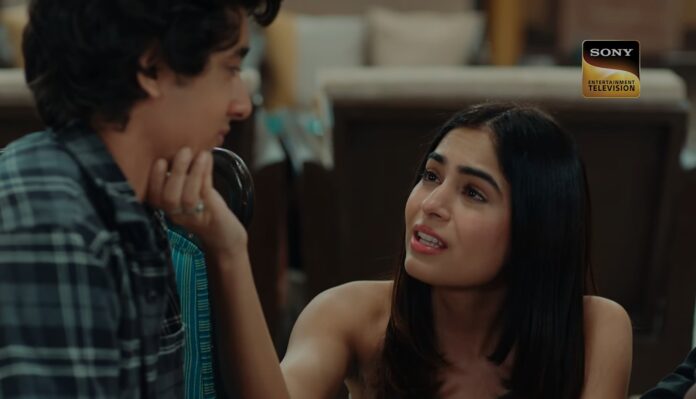 Appnapan Spoilers, Upcoming Story, Latest Gossip , Future Story, Latest News and Upcoming Twist on justshowbiz.net
A major game change in Appnapan, Sonali and Nick are married. Sonali's plan to get united with Nick prevails. This will surely bring in some high voltage interesting drama for the viewers!
Previously in the show, Sonali who had returned in Pallavi's life to take away her peace tries to create lots of misunderstanding between Nick and Pallavi. Sonali made Dadi against Pallavi too. With Sonali unable to see herself get defeated from Pallavi, she used her master card and turned tables on Pallavi.
In today's episode, Sonali forcefully opts out from having dinner with Pallavi and Nick. When Nick comes back home, Pallavi serves Nick's favourite dishes. Nick assures Pallavi that he will give her cafe and the house as well. Later, the blackmailer cuts off the electricity and scares Sonali. Sonali gets scared of the blackmailer threatening her about what happened 18 years ago.
Later, it is revealed how the blacmailer is Karunika, Mayanks's sister. She and Pallavi have planned this as Mayank is made to disappear by Sonali as he was in love with Sonali. They pledge to take revenge from Sonali. Next day, Sonali thinks of meeting Mayank but Nani and Dadi keep her busy. Later, Nick reveals to Nani how he made pandit ji read fake mantras of marriage.
Later, Sonali thinks to go and meet Mayank when Pallavi and Nick interfere in her plan and she is forced to go to the cafe. Here, Mana and Badal come home and meet Dadi. Badal gets upset knowing Pallavi returned but she left even after knowing they are coming.
Mana tries to make him understand. Mayank is shown out in streets searching for Sonali. Mayank comes to Pallavi's house and asks Mana and Badal for Sonali stating he is Sonali's husband.
In the upcoming episodes, Sonali will worry for Mayank being out from mental asylum. Nick will try to find what is Pallavi hiding. Mayank and Karunika will expose Sonali and his misdoings.
Viewers are definitely in for a big turn of events as now Sonali got married to Nick. Will Nick and Pallavi's misunderstanding get some conclusion? Will Sonali's true face come out? Keep following this space for more updates on your favourite shows!