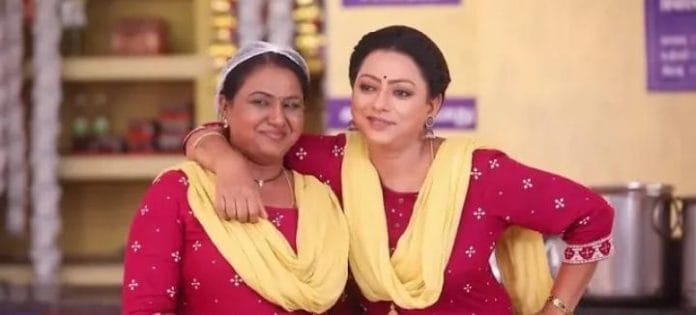 Baakiyalakshmi  Spoilers, Upcoming Story, Latest Gossip , Future Story, Latest News and Upcoming Twist on justshowbiz.net
Vijay Tv's popular show Baakiyalakshmi never fails to entertain the audience with its engaging yet progressive storyline. Now the serial focuses on Radhika trying to cancel Bakkiya's canteen tender. Inya gets furious when Radhika questions her.
In the previous episode, Inya felt unhappy in Gopi's place. Radhika needed recognition from Gopi's family. Radhika instructed Bakkiya to make bakery items in the canteen. Radhika spotted Saran and Inya on the roadside. Bakkiya shared her problem with Palani.
In today's episode, Bakkiya tries cake at home. Palani gives his comment after tasting the cake. Bakkiya shares with Palani about Radhika and Gopi's relationship. Ezhil spends romantic moments with Amirthra. Inya feels low with Radhika's act. Radhika eagerly waited for Inya to come home. Radhika finds fault in Inya and Saran's relationship.
Radhika tells Gopi to arrange an auto to Inya. Inya gets furious when she talks too much. Bakkiya and the family try the cake. The family appreciates Bakkiya's cake. Bakkiya takes the cake to Palani. Palani appreciates Bakkiya's cake. Radhika looks for a Bakkiya in the canteen. Bakkiya teases Radhika.
In the upcoming episode, Inya will be in distress by Radhika's act. Inya will take a pile and admit to the hospital. What happens to Inya? Will Bakkiya win Radhika's challenge? Will Bakkiya come to know about Radhika and Inya's rift? How will Gopi convince Radhika? Will Bakkiya pay off Gopi's dues? Will Bakkiya shift to a rental home? All these questions will be answered in the upcoming episodes stay tuned for more details.