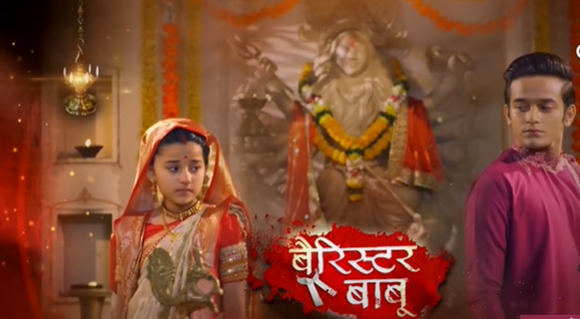 Barrister Babu Upcoming Story, Spoilers, Latest Gossip, Future Story, Latest News and Upcoming Twist, on Justhowbiz.net
Today's episode starts with Bondita reaches the diamond market. She gets excited to meet Gandhji. She sees the place and feels strange. She asks man to make her meet Gandhji fast as she has to leave for the village too. Man says to Bondita she has to wait for a day. Man drags Bondita inside the house. Tara slaps the man for touching Bondita. She lashes out at the man for behaving rude with her. Bondtia stands stunned.
There, Anirudh reaches Kolkata too. Tara asks Bondita what is her name. Bondita shares a talk with Tara. Tara asks Bondita if she is hungry. Bondita says yes. Tara calls Suraiya and Ramaiya. Bondita gets surprised seeing two girls alike. Tara tells Bondita that they are twins. She asks Suraiya and Ramaiya to take Bondita's stuff with them. Bondita refuses to give her stuff and says she is not here to stay for long. She says she is here to take Gandhji along with her.
Other side, Anirudh thinks he reached Bondita but how he will find her in this big city. Bondita says to Tara by searching they can even find God. Meanwhile, Anirudh asks painter to draw a sketch of Bondita. Painter asks if he has her picture. Anirudh gives one picture but Bondita's face was invisible. Painter asks Anirudh if he can explain how Bondita looks. Anirudh explains the painter. Painter tells to Anirudh that it seems he knows the girl very well. Anirudh says no.
Anirudh gets smitten seeing Bondita's picture. He decides to paste Bondita's picture in the city. He gets emotional recalling his moments with Bondita.
Further, Bondita praises Tara about Anirudh. Tara asks Bondita than why she came Kolkata alone? Bondita tells to Tara that Anirudh left her. She cries and says she is here to meet Gandhji so that he can explain to villagers that left women's are not sin. Bondita hugs Tara.  Anirudh worries for Bondita's safety.
Tara blindfold Bondita's eye and takes her. She shows the place where girls were dancing. Bondita asks Tara about the girls. Tara says all girls stay peacefully here and none tag them 'left women'.
Bondita says it is good but she can't stay here. Tara asks Bondita to consider the place her as her new home from now. Tara gives a new name to Bondita and calls her Bulbul. Bondita refuses to take new name.
Other side, Anirudh recalls her moment with Bondita. Here, Saurabh tells to Trilochan and Binoy that Anirudh called him and told him that he is in Kolkata and will only return with Bondita. Trilochan gets excited. Binoy makes Trilochan recalls that Anirudh has already done engagement with Mini. Trilochan gets stressed.
Ahead, Bondita thinks to escape the place. Tara thinks she won't let Bondita escape the house. She tells to Bondita that Gandhiji is not in the town. Tara asks Bondia to wait for one week and post Durga Puja she can go. She promises Bondita that she will make her meet Gandhji surely. Bondita decides to stay back.
In the meantime, Ramaiya and Suraiya comes and informs Tara dealer, don't like any sweet. Bondita gets stunned and says she understand now. Tara gets shocked. Bondita says she learned Tara is confectioner. She tells she loves sweets a lot. She recalls her moments with Anirudh and smiles.
Back to reality; Bondita tells to Tara that post leaving Anirudh she hasn't eaten sweet. She adds once she will return to village with Gandhiji than along with Sumati she will eat. Tara says to Bondita that now her permission will be needed to even touch her. She adds, she is not confectioner but sells sweet.
Tara asks Ramaiya and Suraiya to take Bondita and give her good clothes. Post Bondita leaves Tara says now Bondita won't be able to step out ever from her market place. (Episode Ends)
Precap: Tara discuss with a man that she is thinking to call Assamies during Durga Puja to sell Bondita. Anirudh gets a lead to reach Bondita.