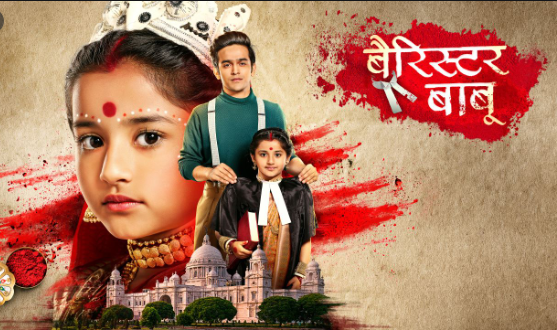 Barrister Babu Upcoming Story, Spoilers, Latest Gossip, Future Story, Latest News, and Upcoming Twist on justshowbiz.net
Episode starts with Bondita thinking she will wear the jacket which Anirudh gifted to Manorama. Manorama wears the jacket and says its perfectly made. She plans to pull the latkan while she will welcome Viceroy on stage. Manorama says she will kill viceroy and will sacrifice her life for nation as well. Manorama sees bomb wire is coming out of her jacket. She decides to hide it.
Anirudh goes to check Bondita needs help in studies or not. Koyeli and Vihari give signal to Bondita. Bondita becomes alert. Anirudh asks Vihari what he is doing? Bondita tells tailor to go to washroom saying he needs to wash his hands. Bondita says he won't come out until she allows him. Anirudh enters Bondita's room and Bondita acts like she is studying. Bondita gets up and Anirudh doubts her saying she is hiding something. Bondita diverts his mind and says she won't disappoint Anirudh this time. Anirudh will be proud of her. Anirudh says then he will wait to see what Bondita does. Tailor sneezes. Bondita also starts sneezing so that Anirudh doesn't doubt her. Anirudh leaves. Bondita says to Vihari and Koyeli that she has to go to school to attend the exam. She has to get good marks to impress Anirudh. Koyeli tells Bondita doesnt need to worry. They will handle everything. Bondita then allows tailor to come out of washroom.
Anirudh becomes happy that Bondita is taking steps towards becoming Barrister Babu. Anirudh says finally Bondita understood the importance of study. He calls the interviewer saying due to family issues Bondita couldn't give answers properly during interview but if the interviewer gives another chance then Bondita will prove herself. Interviewer agrees after Anirudh requests him for many times. Interviewer gives one condition saying if Bondita gets selected she will go to boarding school the next day of the interview. Anirudh gets disheartened. He recalls his memories related to Bondita and laughs. Anirudh gets emotional and claps remembering Bondita. He says though Bondita will leave soon but she is going to achieve big thing after that.
Bondita tells Vatuk to not reveal that she got highest marks in exam. She gives Vatuk his favorite food saying he will hide it from everyone. Bondita says its surprise. She will give surprise to everyone by welcoming viceroy. Bondita thinks of exchanging Manorama's jacket with the similar jacket.
Manorama covers the bomb wire by sewing it properly. Anirudh comes to her and sees the jacket. Manorama gets stressed. Bondita shows the duplicate jacket to Koyeli and Koyeli says she can go to any extent to bring Bondita and Anirudh closer. Bondita thinks she only deserves to wear Anirudh's gifted jacket not Manorama.
The Episode ends