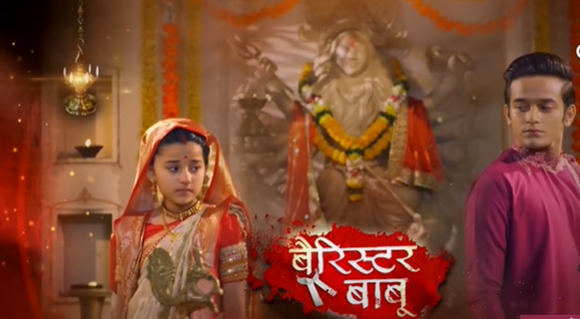 Barrister Babu Upcoming Story, Spoilers, Latest Gossip, Future Story, Latest News and Upcoming Twist, on Justhowbiz.net
Today's episode starts with Bondita looking herself in the mirror. She checks her stuff and finds her slate is missing. She gets tensed thinking where she missed her slate and what she will say when Anirudh will meet her.
Other side, Anirudh sticks Bondita's picture in the city. There, Bondita hears someone crying. She finds a girl. Girl tells to Bondita that she wants to go back home but she is trapped here. Girl tells her name as Sampoorna and Bondita hug her. She tells her sister name is Sampoorna too.
Later, Tara with her men discusses to find buyer for Bondita as soon as possible. Here, Bondita misses her mother. She tells when she left her mother she was ill. Bondita worries for her. Sampoorna says to Bondita they can find whether her mother is fine or not. Sampoorna says to Bondita that will fly coin in air and if it will favor whatever she will choose than her mother will be fine. She does the same and Bondita gets happy learning her mother is good.
Tara says before Bondita learns what she is up to, she will call few assamies and will present Bondita in front of them during Navratri celebration.
Later, Rasiya comes and Tara asks why she is empty hand. Rasiya says she thrown money back to the egoistic Roy's Tara gets angry on Rasiya for her behavior. Rasiya asks Tara to behave herself as she can even burn her house.
Ramiya asks Bondita what she is looking at. She asks her to wear anklet bells because of it sound people will get attracted towards her. Bondita picks up the anklet and hears the sound. Here, Anirudh sticks pictures and policemen interrupt him. He asks Anirudh to stop all these as voice roy is going to pass by here. Anirudh gets angry at the policeman and says he has a right to do that as city belongs to him.
Tara asks Rasiya to tell why she returned the money back. Rasiya tells about Bondita's story to Tara. Tara decodes Rasiya is talking about Bondita.
Policemen ask Anirudh if he is mad. He asks why he is turning rebel. Anirudh says he is mad as her wife is lost in this big city and he is looking for her. Officer comes and takes out the pictures of Bondita. Anirudh fails to stop them.
Tara decides till Durga Puja Rasiya and Munmum don't come face to face each other. She orders to keep the duo separated.
Here, Bondita and Sampoorna plays with the anklet. There, Bondita's painting spreads on the road. Anirudh struggles to collect them. He bears all the pain to collect the pictures.
In the meanwhile, Rasiya hears Bondita's laughter and feels upset the girl is trapped in the diamond market. Tara and Rasiya argue with each other. Rasiya says she is feeling that soon her game will be over as someone is close to destroy her. Anirudh is shown parallel.
Ahead, one of the Bondita's pictures falls at Goddess Durga's feet. Anirudh urges Goddess to help him in reaching Bondita. He vows to ring the temple bell till his prayer reach to Goddess Durga.
Tara comes and sees Bondita. Bondita gets scared. She further refuses to wear anklet. Ramiya says to Tara it is difficult to handle Bondita. Tara says she knows how to keep Bondita happy. She orders to bring 8 pots of one almond sweet for Bondita. (Episode Ends)