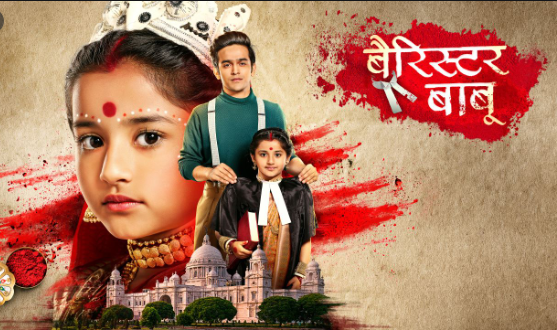 Barrister Babu Upcoming Story, Spoilers, Latest Gossip, Future Story, Latest News, and Upcoming Twist on justshowbiz.net
Episode starts with Bondita getting confused seeing two similar jackets. Vihari signals Bondita and Bondita decides to take the jacket, which has Anirudh's smell. She chooses one and leaves from there. Manorama checks the jacket and gets satisfied. She decides to keep it in a safe place. Bondita also keeps the jacket safely in her cupboard.
Binoy tells servants to take care of the gifts. Specially the gift which will be given by Manorama to Viceroy. Trilochan says proudly that it will be a tight slap for Thakur who thought of canceling Roychowdhury name from guest list. Now Bondita will give the gifts to Viceroy and Thakur will feel insulted. Bondita thinks she will only welcome viceroy. Binoy tells Koyeli to check Manorama is ready or not. Sampurna says Manorama must look prettier than all the women out there. Bondita thinks I'll look the best. Anirudh gives courage to Bondita saying she should not feel upset with the fact that she can't welcome Viceroy. She will shine brighter with the light of education. Anirudh calls Bondita diamond. Anirudh was about to inform her about the interview but Trilochan calls Bondita to light diya in front of Dugga Ma. Anirudh recalls his memories with Bondita and gets emotional.
Manorama gets ready reciting the azaadi slogan. Bondita also wears the jacket and says she will tell Manorama that she wore the real jacket. Bondita thinks Anirudh will be proud of her after knowing she won the chance of welcoming viceroy. Manorama says Bande Mataram. She recalls her moto.
Binoy tells Manorama that she will welcome viceroy in proper way and she will also invite him in Roychowdhury haweli. Bondita hears them. Vihari and Koyeli manipulate Trilochan that Bondita never went for an important work without taking Dugga Ma's blessings. Trilochan orders Manorama and Anirudh to take blessings of Dugga Ma. Manorama says Trilochan is saying right. They get inside. Vihari and Koyeli then help Bondita so that she can hide in the car under the gifts.
On their way Anirudh thanks Manorama for giving him chance to take part in her mission. Manorama also thanks him for his support. Bondita overhears them and doesn't understand the inner meaning. She thinks why Anirudh is praising Manorama when Bondita only impressed the queen by making cake. Manorama thanks Anirudh for the jacket. Bondita smiles that Manorama doesn't know the truth. Manorama mentions how Anirudh came in disguise of a bandit to marry her. Bondita thinks means Manorama only told Anirudh to marry her. Anirudh didn't want to do it. They were about to confess about their fake marriage but they take wrong way so Manorama tells Anirudh to take another way to reach the venue. Anirudh gets upset over the fact that today Manorama's mission will be completed and Bondita will also leave tomorrow. Guard doesn't let them enter. Manorama tells him to check their names in guests list. Guard finds their names and allow Anirudh and Manorama to enter. Bondita comes out of her hidden place. She hopes that Anirudh will tell her bravo.
The Episode ends