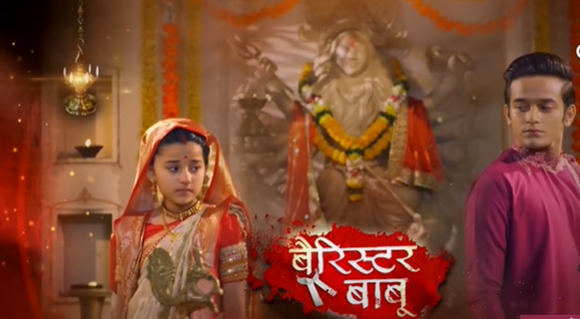 Barrister Babu Upcoming Story, Spoilers, Latest Gossip , Future Story, Latest News and Upcoming Twist, on Justhowbiz.net
Today's episode starts with Bondita doing décor for Navratri celebration. She says is upset with Sampoorna because she has ruined her letter thus, she will do the pooja alone. Bondtia prays to the God. Here, Anirudh receives Bondita's letter boat which Sampoorna has drained in the water. He goes to his read and tries to read it. He thinks to dry it and says he believes letter belong to Bondita only.
Ahead, Bondita goes to Sampoorna and apologizes her for pinching her. She says she was upset with Anirudh for doing engagement with Mini. She further learns Sampoorna is missing from the room.
Other side, Binoy yells at Bihari for allowing Sampoorna to stay overnight at their house. Trilochan asks Binoy what happened. Binoy tells Sampoorna shared Anirudh's room. Trilochan slaps Saurabh. He says he is servant of the house than to he dared to sleep in Anirudh's room. Saurabh tries to explain Sampoorna's health deteriorated thus they stayed at the house. Trilochan fired Saurabh from the work.
Here, Bondita looks for Sampoorna. Ramiya tries to tell her but Suraiya interrupts her and tells to Bondita that she left the house, Bondita decodes Suraiya is lying. Ramiya says to Suraiya they won't be able to stop Bondita. There, Mini reaches Anirudh. She thinks Anirudh is bearing everything for Bondita and gets angry.
Later, Bondita finds Sampoorna tied with the rope. She thinks why Suraiya lied to her. Sampoorna says the whole place is a lie.
Anirudh asks Mini how she is here. Mini says he called Saurabh and he told her. She says she is upset with him because he called Saurabh but not her. Further, Mini says to Anirudh that Binoy, Trilochan, Batuk and all are waiting for him. She asks Anirudh to come back home with her. Anirudh refuses to come with her. He adds he has promised Sumati and he won't return without Bondita.
Here, Sampoorna tells to Bondita that Tara is a bad woman and she has beaten her too. Bondita gets stunned. She Bondita Tara promised her she will make her meet Gandhiji. Sampoorna says she lied to her. Bondita thinks she has to find Gandhiji soon so that she can take him to her village.
Other side, Mini decides to stay back with Anirudh .  Afterwards, Sampoorna says to Bondita that they are like a bird in the cage and they never will be able to fly from here. Bondita recalls her moments with Anirudh. In the flashback; Bondita remembers how Anirudh has told her about Gandhiji's for democratic India. He reads a patriotic poem for Bondita. Back to the reality; Bondits says to Sampoorna they too will fight back Tara for their freedom.
Ahead, Anirudh sees the letter and cries happily. He tells to Mini that it is confirmed, Bondita is at diamond market only. Mini says how he knows. Anirudh explains letter has inverted alphabet which only Bondita can make because he has taught her.
Bondita thinks Anirudh told her about freedom but didn't tell her how to fight back. She miss Anirudh. Anirudh tells to Mini that letter is Bondita's Goddess Durga's signal for him. He says Bondita your 'Barrister Babu' is coming to take you. Mini stands stunned. (Episode Ends)
Precap: Rasiya dance and Tara enjoys. Anirudh gate crash Tara's house.