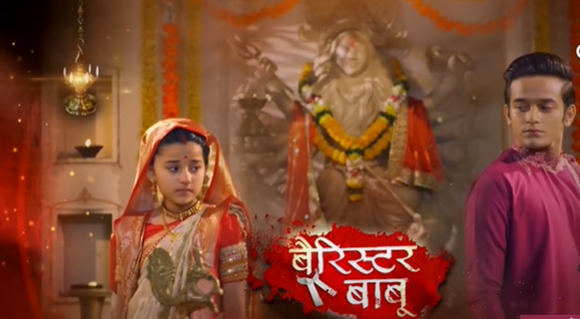 Barrister Babu Upcoming Story, Spoilers, Latest Gossip, Future Story, Latest News and Upcoming Twist, on Justhowbiz.net
Today's episode starts with Bondita recalling Sampoorna's word. She recalls how man throws her at Tara's place. She misses Anirudh and recalls her moments with him. She thinks to escape from the house along with Sampoorna.
Ahead, Anirudh calls out for Bondita and says he is here for her. Bondita hears his voice and thinks how Anirudh is here. Rasiya hears Anirudh and prays for Bondita. Tara asks to play instruments so loudly so that Anirudh's voice doesn't reach to Bondita. Rasiya thinks if Bondita is at Tara's place.
There, Bondita thinks Anirudh can't be here thus she have to help herself. Mini comes and console Anirudh. Bondita thinks of a way to escape the house. In the flashback she thinks how Trilochan misunderstood her when she burnt the coal and smoke spread all over the house. Back to reality; Bondita gets happy and says Trilochan's teaching will help her today.
Mini asks Anirudh how he is so sure that Bondita is at diamond market. Anirudh says destiny like before has made Bondita's letter to reach him thus he is sure. He shouts none can hide Bondita from him.
There, Bondita burns coal and smoke spreads all over Tara's place. She manages to fool Tara and make her believe that house is on fire. Bondita hugs Tara and says she is scared. Tara asks her not to fear. In the meantime, Bondita takes away the keychain from Tara's waist.
Ahead, Anirudh asks Mini to return back. Mini refuses. Anirudh says he can't give her support this time. Mini stands stunned. In the meantime, Bondita opens Sampoorna's room and tries to escape along with her.
Anirudh send Mini back. He yells Bondita's 'berristara babu' is coming to take her. There, Rasiya sees Bondita and thinks she is trying to escape. She feels proud of her and says Bondita should fly away. Bondita and Sampoorna run out from Tara's house.
Afterwards, Tara learns that Bondita escaped along with Sampoorna. She orders to find both.
Anirudh calls Binoy and asks him to help him in finding Bondita at Daimond market. Binoy stands silent. Meanwhile, Bondita and Sampoorna run on the road to save their life. Bondita's dress gets stuck and she forces Sampoorna to escape without her. Sampoorna cries for Bondita. Mini spots Bondita at the market and hide.
Binoy says Anirudh that he will help him. Later, Binoy thinks he won't help Bondita. Meanwhile, Bondita spots Mini and run behind her. Mini ignores Bondita. Tara's men spot Bondita and runs behind her.
Here, Munshi beats Saurabh after Roy's fired him from the work. He throws Saurabh and Sampoorna out from the house. Mini avoids Bondita. She says she will pray to God that Anirudh never unites with her. Meanwhile, Tara's men bring Bondita back. Bondita calls her bad woman. Tara locks Bondita and orders to guard the house so that none can enter.
Precap: Anirudh gatecrash Tara's house. He calls out for Bondita. Bondita cries for Anirudh.