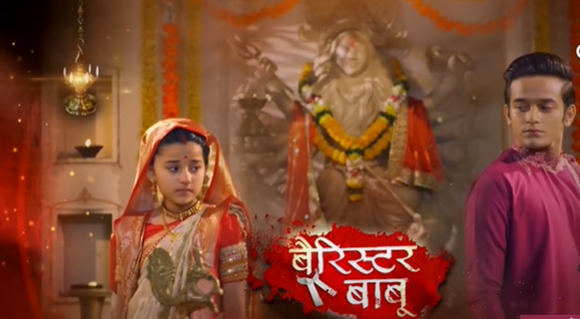 Barrister Babu Upcoming Story, Spoilers, Latest Gossip, Future Story, Latest News and Upcoming Twist, on Justhowbiz.net
Today's episode starts with Suraiya asks Bondita to wear the anklet bells. Bondita refuses to wear the anklet bells. Suraiya says to Tara if she would have kept her hungry than she would have worn it. Tara asks her to wait. Her goon brings Rasiya down by dragging her. Rasiya says to Tara she is doing wrong by hurting Bondita. Tara says she is right thus she has other plan. She discloses she will hurt Rasiya.
Here, Anirudh tells to Trilochan that he has made strategy to rescue Bondia. Binoy comes and says to Trilochan that they should go to Kolkata to find Anirudh. Trilochan refuses to go and asks him to just pray to God for Anirudh. Binoy thinks what happened to Trilochan all sudder.
There, Rasiya asks Bondita not to wear anklet bells at any cost. Tara decides to hurt Rasiya to make Bondita wear anklet. She asks Suraiya to bring knife. Tara threatens Rasiya that she will chop her hair which she loves a lot. Rasiya tries to stop Tara. Bondita feels bad for Rasiya and gets ready to wear anklet bells.
Tara gets happy and says it is easy to fool kind person. She says she knew it, she will hurt Rasiya and Bondita will do dance on her tunes. Rasiya threatens Tara. She asks Bondita not to wear anklet as she is ready to sacrifice her hair. Rasiya says for girl like Bondita she can even die. Tara holds Rasiya's neck. In the meantime, a messenger enters and gives Tara a note. Tara's goon reads that a king is ready to buy a girl in return of heavy amount. Other side, Anirudh dresses Saurabh like a king to send him to Tara. Here, Tara and others get happy.
Meanwhile, Bondita thinks to escape the place. She recalls the play performed by the Anirudh as how to fight back with the trouble by using brain and strength.
Here, Anirudh asks Trilochan to help him by giving hundred gold coins to assure Tara that they are rich. He adds the given money might never return back to them. Trilochan sits stunned.
Bondita hatches a plan to fool Suraiya and Tara's goon. Bondita tricks the both by scaring them. Suraiya and goon think how candle is moving. In the meantime, Bondita escapes from the room. (Episode Ends)
Precap: Tara orders to fins Bondita. Bondita hides at the 'seesh mahal'.