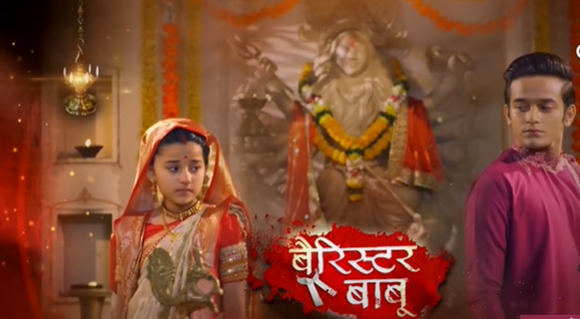 Barrister Babu Upcoming Story, Spoilers, Latest Gossip, Future Story, Latest News and Upcoming Twist, on Justhowbiz.net
Today's episode starts with Bondita fooling Suraiya and Tara's goon on the name of ghost. Suriya and Tara's goon thinks how candle is moving. Bondita enjoys seeing both fearing. She thinks once they will sleep, she will escape and hide in the house only.
Here, Anirudh asks Trilochan if he will give him 100 gold coins. Trilochan says it is ancient and hangs up the call. Anirudh feels bad and thinks Trilochan too refuses to help him. Other side, Bondita looks for a store room to hide so that during exhibition none finds her and she can go back to Anirudh. Bondita hears Tara telling her helpers to bring stuff from store room. She gets happy and thanks Goddess Durga for helping her in finding store room.
Ahead, Bondita goes to store room and recalls her moment with Anirudh. She thinks soon she will fly to him. There, Anirudh too recalls his moment with Bondita. Bondita prays for Anirudh's safety.
Next, Bondita hides herself in the trunk and suffocates. In the morning, Anirudh gets ready. Saurabh asks him where he is going. Anirudh says he is going to get thence from someone. Saurabh says than how he will return. Anirudh says for Bondita's sake he will do anything and will pay back to the person. Someone knocks at the door. Anirudh and Saurabh wonders how Tara is inviting them inspite they didn't send her 100 gold coins. Anirudh further decodes, Trilochan has helped them finally.
There, Tara thinks Bondita is lucky for them as because of her she got 100 coins beforehand. Suraiya too gets happy. Other side, Trilochan prays to God and thinks wealth is not important for him other than Anirudh and Bondita. He further learns Mini hit Koyali. Trilochan decides to reveal to Mini that Anirudh is alive!
Later, Suraiya finds Bondita is missing and gets scared. Bondita in the trunk craves for water. Her throat gets dry. Meanwhile, Anirudh prepares Saurabh, as how to behave like a king. Saurabh fails and Anirudh asks him to concentrate else his one mistake will land them in trouble. There, Bondita comes out from the trunk and looks for water.
Meanwhile, Trilochan visit Mini and stands shocked seeing her walking easily. He finds something fishy. Later, Binoy and Bhaumik sees Trilochan's shoe and asks Mini to remember she is blind.
Tara orders to find Bondita and slaps Suraiya. Other side, Saurabh asks Anirudh why he is not giving money directly to Tara and bring back Bondita. Anirudh says he knows Tara and he is confident she will not lose Bondita simply. He adds he is getting chill thinking Bondita will be part of exhibition. Episode ends with Bondita drinks water and tries to go back to store room. Tara spots her.