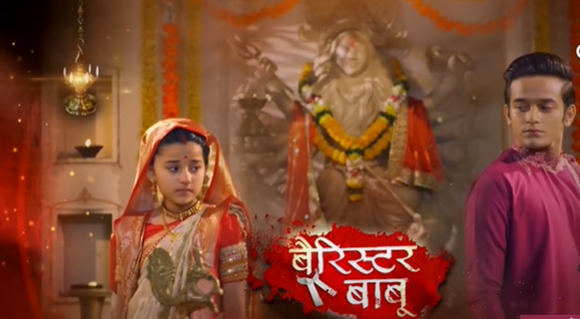 Barrister Babu Upcoming Story, Spoilers, Latest Gossip, Future Story, Latest News and Upcoming Twist, on Justhowbiz.net
The episode starts with Saudamini affirming that if the girls lose then Anirudh will have to stay forever as Greenwood's servant and after that he won't have any family or barrister title. Anirudh accepts the challenge. Saudamini adds that not only him but also Binoy and Trilochan will have to serve them: Binoy will be their driver and Trilochan will handle their kitchen and garden. Greenwood agrees with her.
However, Anirudh says that he is ready to put himself on sake, but his family should not be involved. Before he can refuse, Trilochan announces that he accepts the challenge. He wants to break Saudamini's ego so he is ready to take this risk. Anirudh smiles.
Saudamini says that Binoy is selfish so he will never agree but Binoy accepts saying that he doesn't accept British rule this time and he is with his brother and son. Both Binoy and Trilochan encourages Anirudh to accept the challenge. Binoy is sure that Anirudh will win the challenge. Bondita says that the British rule united their family. She claps happily. Binoy hugs Anirudh and apologizes to him.
Anirudh accepts the challenge. Greenwood shakes hands with him. Trilochan says that they need fair judges for the competition. Greenwood agrees that competition rules will be made in front of fair judge.
Before leaving, Bondita scolds Saudamini for still being a bad woman. She says that she looks pretty but her heart is bad. Saudamini agrees and adds that she can make her family bow down in front of her and throw them out of Tulsipur but Bondita says that she can't do anything as her mother says that evil can be powerful but truth and goodness always win at the end. She says that she will ask Anirudh to teach her a lesson again since she didn't learn before.
 Saudamini is keen on taking revenge. Bondita says that she will be there to stop her if she does bad with her family. She quotes her mother saying that one who digs the pit for others falls inside it. Trilochan asks her not to talk with shameless women. Anirudh says that their actions will speak for them. They leave.
Later Trilochan says that it's final. The man asks Trilochan not to decide for their lives for the sake of those girls. Binoy asks when he will get some sense and understand the profit. Trilochan says that Greenwood wants to have drug farming. He convinces the man for the challenge but he says that Bondita and the girls can't do this.
Bondita tells Anirudh that she used to fell bad after losing a challenge when she used to play in her village. Anirudh teaches her that this competition is for education rights so they have to fight and this fight will inspire every girl who wants to study. She says that she is always with him. He warns that many are the troubles they will have to face. Bondita says that it doesn't matter and she won't let him become Saudamini's servant. She is sure to find solution to every problem. He says that Greenwood and Saudamini are powerful and asks what their strength is.
 Bondita replies that he is their strength, their protector but he says that she has to protect herself and her rights now. He asks her to break a stick. She beaks it. He asks her to break the sticks together. She struggles. GHe explains her that unity is strength. She understands. They meet the Heera Mandi girls. Suraya thanks Anirudh but apologizes saying that they can't go to school.
Episode ends