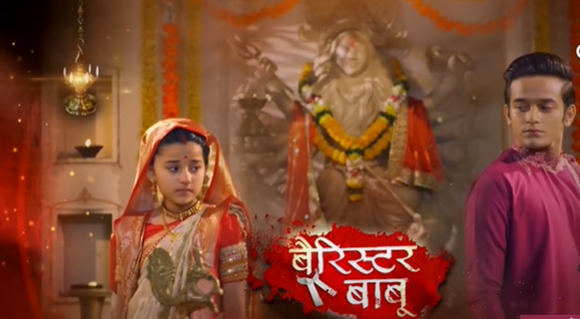 Barrister Babu Upcoming Story, Spoilers, Latest Gossip, Future Story, Latest News and Upcoming Twist, on Justhowbiz.net
Today's episode starts with Tara saying to Anirudh to go and do the inspection. Anirudh thinks where Tara has hidden Bondita. He asks Suraiya to help him in doing inspection. In the meantime, Tara's goon comes with Bondita's poster, which Tara made for Bondita's exhibition. Anirudh gets emotional seeing the poster.
Later, Tara doubts on Anirudh and asks him how he knows her name. Anirudh makes an excuse and says all knows only Tara shines at 'seesh mahal'. Further, Tara asks Suraiya to help Aniurdh in doing inspection. She asks her to be careful and Anirudh should not know Bondita escaped from the house.
Other side, Bondita hides herself in the big trunk. She recalls her moments with Anirudh and waits for him.
There, Trilochan says these are sleeping pills and asks Mini if she was lying. He decodes Mini's trap for Anirudh. He also learns Mini is not blind. Here, Anirudh thinks to use his brain to reach Bondita. He asks Suraiya where the girls are. Suraiya takes Anirudh with her.
Disguised Anirudh sees Rasiya and thinks she can only help him in finding Bondita. He flirts with Rasiya and says to Rasiya that he wants only her. Rasiya asks Anirudh to behave else she will ask someone to throw him out. Anirudh than hatches a plan and throws a green dupatta to Rasiya. He asks her to take it as a signal. Rasiya recalls her dupatta deal with Anirudh and gets happy. Rasiya says to Anirudh that he is king's servant and person like him deserves to be at store room. Anirudh gets Rasiya's signal. Rasiya shows him a way to store room (Ai giri Nandini Nandithute) plays in the background.
Anirudh thanks Rasiya. Here, Trilochan asks Mini why she betrayed all. Mini says because she loves Anirudh. Trilochan calls her fake. He accuses Bhaumik and Binoy too for supporting Mini. He questions Binoy why he betrayed him. Binoy says for Anirudh's sake he lied and betrayed all. Further, Tara asks her goon to find Bondita at any cost. Saurabh as King enters the 'Seesh Mahal'.
Anirudh rushes to see Bondita. He tricks Suraiya and asks her to go and welcome kings. Suraiya gets trapped in Anirudh's word and leaves the place. Here, Bondita feels Anirudh's presence and prays to God to send him soon. Anirudh enters the store room and calls out for Bondita, later gets happy hearing his voice. (Episode Ends)
Precap: Anirudh reunites with Bondita.