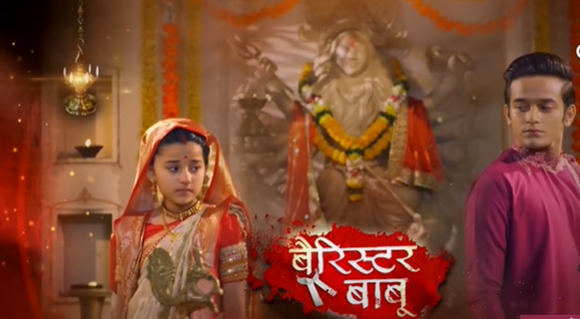 Barrister Babu Upcoming Story, Spoilers, Latest Gossip, Future Story, Latest News and Upcoming Twist, on Justhowbiz.net
Today's episode starts with Bondita saying to Goddess Durga today she is not frightened and feeling good. Anirudh thinks Rasiya has signaled him that Bondita is at store room and now how he should find her. Bondita smells Anirudh's perfume and thinks if Anirudh finally arrived. There, Tara accompanies Suraiya to the store room to fetch the stuffs.
Meanwhile, Anirudh hatches a plan to find Bondita. He sings 'Raghupati Raghav Raja Ram'. Bondita hears Anirudh's voice and gets happy. She thanks God for saving Anirudh and keeping her trust alive.
Here, Anirudh thinks Tara doesn't know about Bondita too and before she comes he should leave. Bondita recalls her flashback moment with Anirudh and knocks the trunk twice. She sings 'Raghupati Raghav Raja Ram' back and Anirudh gets happy. He opens the trunk and sees Bondita inside. Duo gets teary seeing each other. Anirudh closes the door. Bondita and Anirudh together sing 'Raghupati Raghav Raja Ram'. Anirudh runs to Bondita. Bondita touches Anirudh and claps in happiness. Both of them celebrate their victory by jumping together.  In the meantime, Tara heads towards store room too.
Other side, Bondita asks Anirudh if he is fine. Anirudh apologize Bondita for his past deeds. Bondita asks Anirudh not to feel guilty. She tells him that she knew that Goddess Durga will keep him safe. Anirudh says he wants to share many talk with us but post saving her from Tara's trap. He shares his plan with Bondita. At the same time, Tara enters the room and keeps Anirudh at knife point. She asks him what he is doing here.
Next, Binoy accuses Bondita and says he hates Bondita because she ruined Anirudh's life. He belittles her. Trilochan gets angry at Binoy hearing his words for Bondita.
Further, Tara asks Anirudh to speak. Bondita thinks she won't let Tara harm Anirudh for the second time. She decides to come out from the trunk. Anirudh thinks Bondita shouldn't come out from the trunk anyhow. Saurabh disguised as King enters the place and saves Anirudh. He gets angry at Tara for misbehaving with Tara. Bondita recognizes Saurabh's voice and enjoys.
Saurabh fake that he will leave the place because Tara disrespected Anirudh. Tara manages to convince Saurabh. Anirudh signals Saurabh that Bondita is inside the trunk. Later, Anirudh decides to explain his plan to Bondita through a signal hiding from Tara. Bondita decodes Anirudh's signal and gets happy thinking, Anirudh will take her to Tulsipur in a trunk. (Episode Ends)