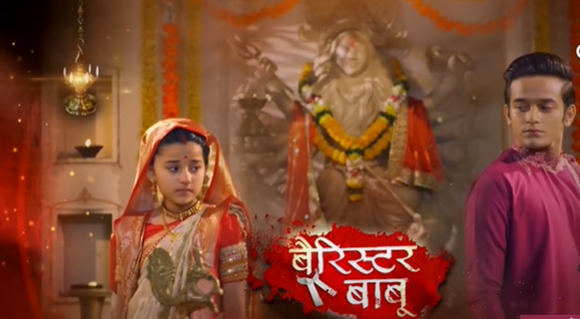 Barrister Babu Upcoming Story, Spoilers, Latest Gossip, Future Story, Latest News and Upcoming Twist, on Justhowbiz.net
The episode starts with Saudamini asking Anirudh for how long Bondita can save him as he knows that studying is impossible for girls. Anirudh shuts the window. Saudamini's band keeps playing instruments and she thinks that she will keep rising difficulties for the girls so that she will win.
Anirudh gets frustrated and ends the class. When he and the girls come out, Saudamini taunts them and calls the boys to show how much they have learnt. She asks a page to a boy who explains how rain comes. Bondita asks the last page and the boys know that also. Suraya says that it's the first day only and they know the whole book. Saudamini taunts them and leaves with her team. Bondita swears to do anything and even become Kaali Maa but never let Anirudh become Saudamini's servant.
Later, Bondita tries memorizing Mughals' names. She jokes with Bihari. At the same time, Anirudh understands they are being slow and thinks a way to make girls win. Trilochan and Binoy come to Bondita who tells them that the boys have learnt the whole book. Binoy asks her to go and study the whole book as well and not to do any other work of the house. Trilochan asks her to study in the kitchen only so that she remembers that she is Roy Chaudhary's daughter-in-law. Anirudh is worried because only few days are left for the first competition.
Bondita remembers the lesson on gravity. She stops Bihari from throwing some vegetables but Bondita stops him since Anirudh taught her how to use the rubbish to grow some vegetables. Binoy and Trilochan look at her and talk about how studies are making Bondita even more intelligent and she isn't ignoring housework as well.
Anirudh calls Bondita and tells her that they must study at night. Bondita says that there are twelve hours in a day and twelve in night so twenty-four hours in total are a lot. Anirudh says that they have to make lots of efforts as well.
Trilochan comes and he is totally against of Bondita going out at night. Anirudh asks him the permission to let the girls study in the mansion then but Trilochan is against that too so Bondita convinces him saying that she will go and come back.
Anirudh start the class of the girls saying that they will study until competition doesn't happen. He lights up bulb to start the class but Elaichi breaks it launching stone at it. Anirudh understands that one of the girls broke the bulb and asks Bondita, who is the monitor, who broke the bulb. Bondita thinks she cannot take Elaichi's name and wonders what to do. Anirudh questions her but she refuses to reveal the name.
Anirudh asks Bondita to rub the wood pieces against each other non-stop. Bondita does that and suddenly fire lights up. She backs off seeing that. Anirudh tells the girls that today they learnt how to light up fire without matches.
A boy tells Saudamini and Greenwood what Anirudh did and how girls learn how to light up fire. Greenwood recognizes that Anirudh is doing a great job. Saudamini is worried about Anirudh turning tables. She says that they will have to do something to stop Anirudh from teaching. She wants to burn Anirudh's dream to make the girls study at school in the same fire he has lightened up.
Later, Bondita and Anirudh come back home were he scolds her for not telling her the name of the girl who broke the bulb but Bondita tells him that she didn't reveal it because the unity of her group would have broken and he only said that the unity should be maintained since unity is strength. She pouts and sits under desk getting upset with Anirudh for backing off from his words. She complains because she wants her "Pati Babu" at home and "Sir Babu" only in class. Anirudh asks her to forward her hand. She thinks she wants to hit her but he applies balm on her hands which got hurt while rubbing woods. They sing "Hum hone kamyaab"
Episode ends
Precap: Saudamini puts the girls' class on fire. Bondita screams seeing the fire. Anirudh tries putting it off. Elaichi is stuck inside. They rescue her and she reveals that Saudamini lightened up the fire. Anirudh screams Saudamini's name.