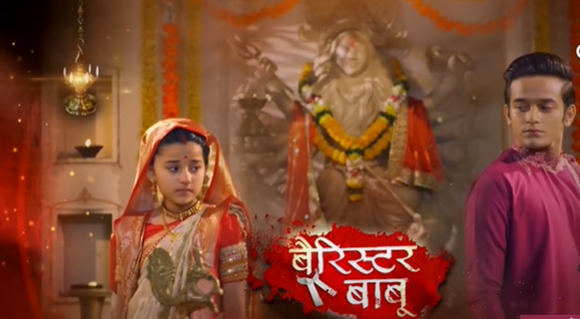 Barrister Babu Upcoming Story, Spoilers, Latest Gossip, Future Story, Latest News and Upcoming Twist, on Justhowbiz.net
The episode starts with Binoy kicking away the collar and shouting that he won't let it happen: Anirudh Chuadhary is his son and he cannot treat him like anyone else. Anirudh tries calming him down. Saudamini claps and then walks to Anirudh and throws the collar at him again asking whether she should help him wear it. She sees the little blackboard on which Bondita had drawn Anirudh with the girls and laughs. She shows it to Greenwood who laughs too.
Greenwood asks Anirudh to wear the dog collar. He walks towards him with a rope and is about to hit him but something stops him. When Greenwood turns around, he sees Bondita and the other girls holding the rope. Anirudh and Binoy smile seeing them. Bondita sings "hum honge kamyab" and the girls join her.
Anirudh remembers singing the song with Bondiya and sings along as well. The girls pull the rope away from Greenwood's grip and walks to stand beside Anirudh and Binoy. Saurabh is with them. They all sing together facing Greenwood and Saudamini. Trilochan and the villagers come there too. Anirudh is happy to see them. Trilochan says that they are there thanks to Bondita.
Anirudh declares that the challenge starts now. Trilochan plays the shank. Greenwood says that the challenge only started but they are celebrating like they have won. Saudamini says that it's their old habit to forget that the game has just begun. Anirudh says that it isn't a game but a war. They shout "Vande Mataram".
Principal comes and Greenwood introduces him as the judge of the competition. Trilochan asks whether they can trust him since he is the principal of English school and is paid by English. However, Anirudh says that he taught him and he is sure that he is trustworthy. He knows that the principal believes that girls should stay at home so, if the girls win, it will be a double victory for him: the girls will get admission and the principal's thinking will change.
Principal wants the two teams to meet first. Saudamini calls the boys. Someone throws a javelin towards the girls rising some sand so they start to cough. Saudamini introduces him: he is Adavit and he is pro in javelin launch and studies. After him, Satya comes and he is a good footballer. Gautam, Shubhu and the strong Bheem come after Satya. Vinod walks in asking whether girls can see stars in daylight. Anirudh thinks that the boys team is strong so he has to work hard to make the girls on their level.
The principal asks the girls to introduce themselves. Saudamini says that they are losers and laughs along with her team. Trilochan wonders if they made mistake by making girls compete with such boys. Bondita introduces the girls and herself and says that they haven't gone to school but they can handle kitchen and relationships and they have relation with stars and moon as well. She is sure that they will win because they know learning by heart. Anirudh claps and says that the girls will win this Mahabharata because this war is not for their past or present but for the future.
Principal says that they will check the teams' intelligence and strength: the first one will be the intelligence one. Greenwood interrupts him and says that the girls will lose in the first one only so why they should waste time.
Two big books about general knowledge are brought. Saudamini holds one for her team while Anirudh takes one for his team. Principal announces that the competition on general knowledge will happen after few days and the two teams should prepare themselves in the meantime. He wishes them good luck.
The next morning Trilochan ties a thread on Bondita's wrist and says that she is Arjun while Anirudh is her Krishna. He says that she has to make the girls practice too and has to win. Bondita asks him to tie the thread even tighter and promises that she will not let it break. She says that she won't let Tulsipur and Anirudh lose. She asks Durga Maa to help her.
Episode ends
Precap: Anirudh tells the girls that they have to win the challenge at any cost. Saudamini comes there making lots of noise and says that Bondita cannot save him for long from turning into servant. Bondita warns her that she will transform into Kaali Maa.